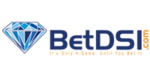 > Take me there!
BetDSI Bonus Code
Diamond Sign Up Bonus
The Diamond Sportsbook, better known as DSI, claims that "win, lose, or draw, you're always a winner here." That's certainly a lofty claim, but does it really back it up? 
With a unique rewards system and one BetDSI promo code after another, that claim does have some merit to it. 
Over the course of this guide, we'll outline the need-to-knows about using BetDSI bonus code to your playing advantage — and in the world of wagering, who doesn't need a little help? These BetDSI offer code apply both to new and returning bettors so there's something for everyone. 
Worth noting about BetDSI
Rewards program for loyal players
Sign-up bonus that can be used in sports and casino
Flushed out mobile and in-play betting experience
So how can I claim this bonus?
Initial deposit is matched dollar for dollar in sports and casino free play
Sign up Now
BetDSI Bonus
BetDSI Sign-Up Bonus Is Unique 
First-time bettors are no strangers to sign up bonus. Every online betting site has one, if not multiple, introductory offers to get them hooked. Almost always with these deals, free money is dangled in front of new players if they just sign up for an account.
Typically, that free play earned from sign-up bonuses are restricted for use to one platform (e.g. only in the sportsbook or casino). Cross-play is barred by most sites.
Fortunately for you, BetDSI bonus is not like most in this instance. BetDSI new account bonus actually encourages awardees to jump between either platform. 
Here's how BetDSI new customer bonus works: they'll match every dollar initially deposited by a first-time player up to $1,000. That bonus is then split exactly fifty-fifty for use in the sportsbook and casino respectively. Before you ask, no, you can't alter that percentage split, it's always cut exactly in half. 
The end-goal of sign-up bonuses was always to give new bettors a "trial run" of a betting site. But what's a trial if you can only test one part of the site at a time (e.g. what most sign-up offers currently are)? With its bonus deal, BetDSI offers new customers a complete sample of its site — which is a huge plus. 
Rollover Rates Apply To BetDSI Bonuses
As with anything that sounds too good to be true, there's always a catch. When it comes to sign-up deals and the "free" money that comes with them, the catch is rollover requirements sports.  
BetDSI isn't unique in this instance. Its aforementioned new customer bonus comes with pretty lofty playthrough requirements. 
For the sports split, the rollover rate is 20X before free play can be cashed out. That requirement is doubled with the casino split at 40X. Compared to competitors, both BetDSI rollovers trend on the higher side. 
Betting On The Go Is Seamless With BetDSI Mobile 
BetDSI has a fully-optimized website when accessing it from a mobile phone or tablet. That means you get virtually the same experience as using the site on a desktop. 
No user features are lost when using from mobile. No apps need to be downloaded from Google or Apple's app store. It's truly a consistent experience between devices.
With that, there's no unique sign-up bonus associated with betting on mobile. The same welcome bonus we just outlined carries over here, too. 
BetDSI does offer live betting, by the way. These types of wagers are a great way of meeting those pesky rollover requirements.  
Other BetDSI Bonus Offers
Don't think only new bettors are awarded at BetDSI. Existing players also get rewarded in the form of reload bonuses.
Anytime a player re-ups money into their account, they're eligible for the reload bonus, which tops out at $2,500 — which is no chump change. The rollover rate for this bonus is a more modest 3X. The best part of this deal? There's no limit to how many times it can be redeemed. 
BetDSI's refer-a-friend bonus is also noteworthy. If you get someone to signup for BetDSI via your referral link, you'll receive $200 in free play. Better yet, there's only a 5X rollover rate on that bonus. Like the reload bonus, there are no limits to redeeming so refer away! 
Last but not least, BetDSI has an entire loyalty program. Whether you win or lose, the site awards "BetPoints" just for playing. These points can be redeemed for free play and other prizes.  
The program is broken up into a three-tier system — gold, platinum, and diamond — each with different perks. To get started, players just need to deposit $300 into their account. From there, just wager per usual and the BetPoints will collect themselves!
In-Play Wagering Is Big On BetDSI
We touched on it briefly before, but BetDSI's live betting feature bears further explanation. Live betting or in-play — both mean the same thing — allows bettors to wager on events as they're happening (instead of just pregame or halftime). It's really risen in popularity over the years and we don't see that slowing down anytime soon. 
Any live-betting feature is best judged by its speed and selection of games available for wagering on. It's safe to say BetDSI meets the mark on both.
You'll see most of the top sports and leagues up for live betting. This applies to a number of wagers — spread, moneyline, point totals, and even prop bets at times. 
Moreover, BetDSI is quick to update lines as the game unfolds. Say for instance a basket is scored in a basketball game you bet on, the odds will shift before the play even unfolds on your television set. BetDSI takes bets most of the game, only cutting it off with minutes remaining (which is the norm).
For players looking for a special bonus for live wagering, you won't find it at BetDSI, however. 
Betting Parlays on BetDSI
The thrill of winning a single sports bet is something, but the thrill of hitting on a multi-bet wager (parlay) is a whole other thing. 
Placing parlays is pretty intuitive on BetDSI. There's a tab just for it when betting and possible winnings are automatically totaled while selecting picks.
While some sportsbooks have special parlay bonuses on wins, no such thing exists on BetDSI — not currently, at least. Neither does Acca insurance in the case of one of your selections letting you down.
We'd knock BetDSI for missing out on both features, but neither are the norm across the industry.