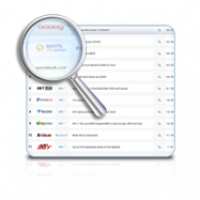 With so many online sports betting sites to choose from, selecting one to bet with can be a challenge. Picking the right one should never be a toss-up decision. That's why we provide you with our independent online sports betting reviews. We take great care in examining the ins and out of the best known online sportsbooks so you can know everything you need to in terms of betting options, available payment methods, customer service and quality of odds offered.
Sportsbook Reviews
We care a great deal about our reputation and that's why we only promote the very best betting sites and top sportsbooks out there. Check out our Top 5 Sportsbook Reviews below and once you've read the sportsbook review, open an account and place your first bet in no time!
Top 5 Online Sportsbooks
Our signature online sportsbook reviews are like none other. That is because we focus on what matters most: sportsbook bonuses. By centering our sports betting site reviews around the best sportsbook bonus, we are sure we are taking care of your bottom line.
But that is not all that we look at in our review process. Not at all. We take a number of factors into our calculations. More on that later. 
For now, take a look at our top 5 online sportsbooks. They are widely available across the US. These offshore sportsbooks do not rely on any state to legalize their status for bettors in those states to be able to sign up, log in, and enjoy! 
This list of top sportsbooks is the result of years of online betting experience that our team brings to the table. This is what guides our online betting reviews. Here, you are in good hands! 
Bovada 
Bovada is widely considered to be the best online sportsbook in the United States. It normally has the lion's share of bettors and holds onto them. But, reputation is not everything. Sometimes sites become famous for many reasons unrelated to their quality. This is why a systematic online sportsbook review is necessary. 
The outcome of our review is clear: Bovada is a highly recommendable sportsbook! There is after all a reason that so many people continue to sign up with this brand name. Generally speaking, earning a reputation takes years of solid odds, customer service, and timely payouts. 
Feel free to read our complete Bovada review and sign up.
BetOnline
Our review of BetOnline yielded similar results. This top North American sportsbook is known for being a top odds bookie. You can expect to see the latest odds posted here first. For the smartest sports bettors who keep up with the latest news and follow lines closely, this is highly important. 
But that is not all that this top sportsbook brings to the table. They also have a dedicated customer support team. Their agents are available 24/7 to help you solve any of the snags you may encounter as you navigate the site.
You can read our full BetOnline review or sign up directly following the links. 
BetNow
BetNow has a great sportsbook welcome bonus. This site will double your initial deposit when you sign up. This is a great way to get started on the right foot. BetNow will continue taking care of you as you go. 
Even though BetNow is a relatively new sportsbook, it has been around long enough, and been a great enough sportsbook, to attract a loyal following. Keep an eye on this up-and-coming sportsbook by reading our BetNow review or signing up! 
GTBets
GTBets comes out strong with a welcome bonus that is worth up to $500. Since it started in 2011, this online sportsbook has been attracting customers with its strong collection of ongoing promotions. 
This sportsbook's bonuses include the welcome bonus, refer-a-friend bonus, and their signature reduced juice promotion. This gives you an even better deal on select games based on your favorite teams across top sports leagues. 
Our full GTbets review is available. Click through to sign up today! 
MyBookie
MyBookie has been around since 2014, and they have a very special welcome bonus for their sportsbook. Instead of just giving you one, you get to choose between a few sportsbook bonuses for your initial deposit. 
Their sportsbook's welcome bonus is worth up to $1000, and the casino bonus can be even more profitable. Our MyBookie review has all the details! 
Sportsbook Bonuses Are the Focus of Our Reviews
We know what matters, and we put that at the heart of our sportsbook reviews. Sportsbook bonuses are key in helping us get to a nicer bottom line, and for having an even better time online betting. 
The welcome bonus is the biggest fish in the sea here. It generally is the sports betting site bonus with the biggest cash value. It also is one of the easiest to collect. You get them upon signing up and making your first deposit, so nearly everyone qualifies. 
But that is not the only bonus that goes into our online sportsbooks reviews. We also consider the smaller, but sometimes more frequent, promotions. These can include:
March Madness brackets 

Recommending a friend

Reload bonuses 

Rebates

Crypto boosts
Other Factors in Our Sports Betting Online Reviews
While bonuses are the central focus of our online betting reviews, it is not the only thing we take into account. If so, we would end up recommending some seriously fishy sites. Many will offer bonuses that seem too good to be true, and that's because they are.
We also look at reputation and trust. We make sure that these sportsbooks process payouts in a timely manner and in general treat their customers well. This is key to a positive betting experience. 
We also consider their betting markets. When we get the big bonuses, we need places to bet with it. Betting markets keep us entertained and satisfied. It is great to have multiple betting options when the games that matter most are coming up. This si why it is a central part of our review process. 
The Process for Our Online Sportsbook Reviews 
Our process for reviewing online sportsbooks is thorough and unbiased. What we care about is recommending only the best online sportsbooks. So we do our due diligence, so you can just relax and have fun. 
This means we develop criteria that we then take to the different sites. We test out the different functions and features to see if they are easy to use, a good value, and generally fun and exciting.  
We then compare the different aspects of each of the betting sites to come up with an objective answer to the top sportsbooks.