MyBookie Review
What's in it for you?
Superb sportsbook, racebook, and casino
Choice of sign-up promotions
Simple-to-use interface
MyBookie lv hasn't been around for long — it started only in 2014 — but it's made quite the splash in its short time on the market.
That's largely due to its expansive MyBookie sportsbook and MyBookie casino offerings.
Bettors get lured into the site by its sportsbook bonuses and promotions but stick around for the bevy of games and betting lines offered. The MyBookie online sports betting is one of the best available online.
This MyBookie review will cover everything you need to know before getting into MyBookie betting. How to bet, deposit and payout methods, and mobile betting is just the tip of the iceberg in this comprehensive MyBookie review.
Our MyBookie rating
Bonuses

9.5/10

Deposit Methods

8.5/10

Payment Options

8.5/10

Betting Lines

8.5/10

Website Navigation

9/10

Casino Games

9/10
Superb sportsbook, racebook, and casino
Simple-to-use interface
Multiple welcome bonuses to choose from
No poker room presently offered
How Is MyBookie Legal In The US?
Frequent questions atop bettor's mind might sound something like this: "is MyBookie legal" or "is MyBookie safe?" Those are all completely valid questions, especially considering the United States' not-so-intuitive laws on sports wagering.
While betting on sports is legal at the federal law in America, it's still on each individual state to mandate it. Some already have — New Jersey, Pennslyvania, to name a dozen or so. But it's still outlawed in the vast majority of US states (for now at least).
Thankfully, regular US legislation doesn't apply to MyBookie sportsbook. That's because it's not operated within the borders of the United States. Instead, it's run offshore with little to no oversight — in this scenario, that's actually a plus.
The only hard rule on MyBookie is its age requirement, which is 18 years old to play. Aside from that, it's practically all fair game so you can bet without fear of repercussions.
MyBookie Sportsbook and Casino
As is the standard with most betting sites, MyBookie has dedicated sportsbook and casino platforms. Each one comes with its own unique MyBookie bonus codes for new players.
The site's sportsbook welcomes first-time players by matching 50% of their initial deposit up to $1,000 — meaning you'll have to load up $2,000 to earn the max MyBookie free pay.
That sportsbook welcome offer comes with a rollover requirement of 10X. Therefore, you must wager ten times the amount you started with before withdrawing money. For example, if you deposit the full $2,000 (in turn earning $1,000 in free money), you're starting pot is $3,000. Thus, the rollover playthrough needed is $30,000 — which is no chump change.
The MyBookie casino sign-up bonus is credited at 150% of a player's first deposit. Max payout is capped at $750. Lastly, the rollover required in the casino is a staggering 40X.
Both the sportsbook and casino rollover requirements are on the higher aside, especially compared to competitors. Those high rates are certainly a knock on MyBookie.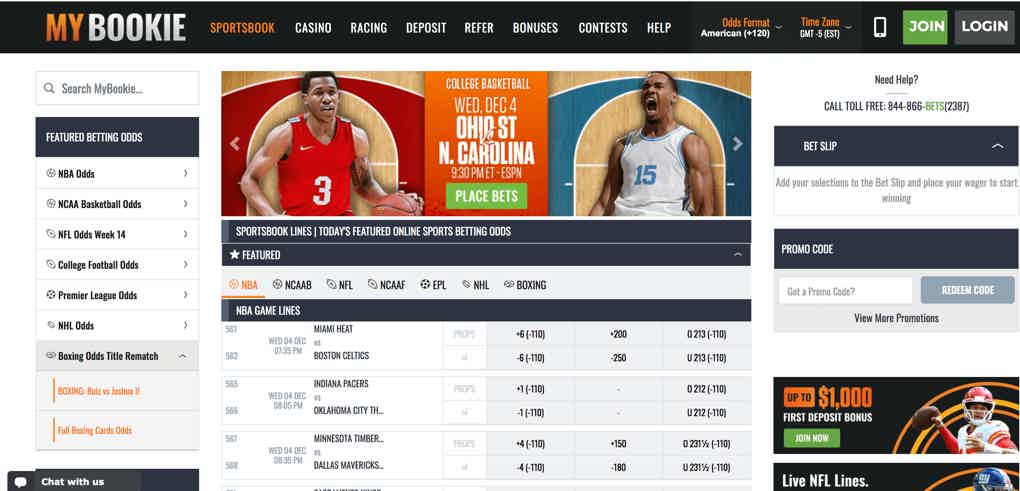 How To Withdraw Money From MyBookie
Cashing out in a convenient manner is typically a chief concern among sports bettors, as it should be. MyBookie holds that end of the bargain up well with it's three MyBookie payout methods — Bitcoin, e-check, and wire transfer.
However, it should be noted all cashouts must be approved by MyBookie first. Requests are processed on a first-come, first-served basis and take between one and two business days to complete.
Another rule worth mentioning is the payout limit. We'll touch on the dollar amount minimum and maximum per method later, but payouts can be requested only once a week for each option.
Bitcoin MyBookie withdrawal
Bitcoin — the original cryptocurrency — is becoming the norm in the online sports betting world. With one benefit after another, it's proven to be perhaps the top method on how to cash out on MyBookie.
MyBookie bitcoin is no different. The crypto can be used both to deposit and withdraw money from MyBookie. It benefits greatly from zero transfer fees — a far cry from the steep rates charged on e-check or wire transfer payouts. Money can be requested in the amounts of $25 (minimum) to $5,000 (max).
Another important edge Bitcoin has over other withdrawal methods is privacy. We would hate to jinx Bitcoin and say it's "unhackable" however, it is much harder to trace funds using the blockchain than regular debit or credit cards.
E-check MyBookie withdrawal
Only U.S. customers are eligible for e-check withdrawals, but there are caveats: credit unions and federal banks are excluded from receiving this payout.
Using imagery of either a bank statement or voided check — that displays your name and account/routing number — money can deposited right into your checking or savings account. Imagery can be uploaded straight to MyBookie's portal under account details.
The minimum payout amount is $50, while the max is $3,000. MyBookie charges different fees based on how much is withdrawn.
Payouts between $50 and $200 is a $5 flat fee. That charge is upped to $15 for withdrawals in the range of $201 and $750. For payouts $751 to $2,000, the processing fee jumps to $40. Finally, any cashout below $3,000 but above $2,000 comes with a $100 fee.
Wire transfer MyBookie withdrawal
This method is almost exactly like an e-check. However, no image needed here, just routing information for your bank account. Akin to e-check, federal banks and credit unions are not eligible.
The minimum withdrawal fee is much higher with a wire transfer, though, as it's at least $500. The same goes for the max, which is $5,000. Processing fees range between $75 to $160, depending on how much is withdrawn.

How Long Do MyBookie Payouts Take?
This will all depend on the MyBookie payout method chosen, as it differs between the three options.
Delivery time for receiving money via Bitcoin is at most, 24 hours — and that's pushing it. Money can be delivered in just hours sometimes. It's by far the quickest way to move funds, so chalk that up as another pro to using a Bitcoin wallet for MyBookie.
Wire transfer and e-check are much slower. Expect to wait between five and seven business days (excludes weekends) before receiving money.
How To Place A Bet In MyBookie
There's an abundance of betting lines available on MyBookie every single day. Odds stretch far and wide across multiple sports, leagues, and countries. In the same token, there's an array of bet types associated with each game/event — typical spreads and point totals, but also props and futures.
Without a clean user interface, this copious amount of bets could overwhelm players. However, MyBookie does a stand-up job in breaking these wagers apart neatly with its left-hand navigation menu. There, you'll see all bets filtered by sport and league.
Placing an actual wager in MyBookie comes easy. First, you'll need to create a user profile with the platform. On the top right-hand of the website, you'll find a "Join" button that will take you straight to sign-up. Key in a few personal details like name, age (remember, the limit is 18 years old), email and your account will be set-up in minutes.
Once signed in, scroll around the sportsbook until you've met your betting match. Click the game and you'll be prompted on the betting slip to bet it straight or a MyBookie parlay. Type in how much you want to risk and MyBookie will automatically spit out what the payout would be if it hits.
It's as simple as that. Add multiple games into the betting slip if you want to figure out how to parlay on MyBookie.
How To Bet NFL On MyBookie
Football, both at the NFL and NCAA level, is king with American sports bettors. Simply put, no other sport draws as much betting money as football.
MyBookie is well-positioned to take advantage of this interest. There's probably not a MyBookie NFL or NCAA game that won't have lines posted on MyBookie. And not just normal spread, moneyline, or over/under lines, either. MyBookie also offers a ton of futures and props betting when it comes to football.
Live betting also enhances the football betting experience. If you need to get a feel for a matchup before wagering money, MyBookie has up-to-the-minute lines for numerous football games while they're ongoing.
How To Bet Politics On MyBookie
These days, American politics has become almost sports-like with each political side fiercely rooting on their team and jeering the opposite side. Riding that momentum, MyBookie offers an array of politics betting lines. This feature will come especially handy during the upcoming 2020 elections that feature Donald Trump odds on favorite to win the presidency again.
Among the offered markets, you can find Donald Trump Odds, UK election odds, Brexit odds and many others.
How To Bet UFC On MyBookie
Jumping back to sports, the platform is also fixated on MyBookie MMA odds. This is great for diehard or casual fight fans alike.
Casual fans that pop in once every blue moon — say when Connor McGregor or Jon Jones fights — will find odds for those marquee matchups. But hardcore fans will also enjoy the full breadth of lines listed, including those lowly undercard matches.
Of course, MyBookie's MMA selection isn't just limited to UFC. Other promotions such as Combate Americas and Bellator also draw betting lines during fight cards.
How To Bet Horse Racing On MyBookie
MyBookie also has a fully dedicated racebook for horse races. Thoroughbred, harness, or greyhound, you name it, and MyBookie covers it. This applies to racing outside of America, as well. Lines are readily available for the sport in Canada, UK, and Australia.
Still, no event draws more interest than the American Triple crown composed of Kentucky Derby odds, Preakness Stakes, and Belmont Stakes. All three legs are virtual must-bet events and MyBookie has a huge selection of bets available to capitalize on the big moment.
MyBookie LV Mobile
MyBookie doesn't have a built-out app in Apple's App Store or Google Play Store. Instead, it opts for a mobile-sized experience that mirrors the desktop version almost to a tee.
Just bust out your smartphone or tablet, type its url and you'll be re-routed to its mobile counterpart. Every feature from desktop is carried over so it's a seamless experience for users.
As long as you're connected to the internet via WiFi or a data plan, you'll be able to place bets from the convenience of your phone. This is especially handy when in-game betting. Now you can catch the game at the bar or out with friends and still be able to wager while on the go.
There's no drop-off in user experience when using the casino, either. MyBookie's full fleet of casino games are available to play while on a mobile device like iOS or Android.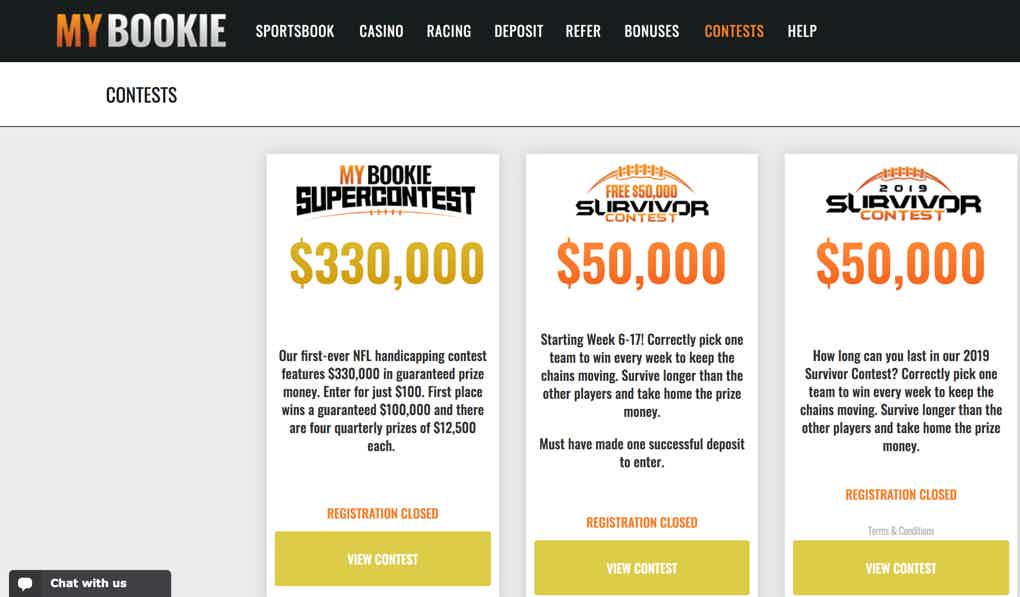 Reviews On MyBookie
Without question, MyBookie ranks high among the list of best sport betting sites. With its plethora of site features and betting options, it can serve as the end-all, be-all platform for gamblers.
But don't just take our word for it, listen to the many players that use MyBookie for all their sports wagering needs. We pulled some of the better quotes from my bookie reviews around the internet:
"Mybookie is incredibly easy to use! Getting my account funded was super quick, and making bets is really easy!"
"From a design perspective, everything is laid out cleanly. The site is a breeze to use on mobile. The sports I wish to bet on are easy to find and categorized well. The estimated payout automatically updates whenever I type in my wager, so it's nice to know how much I can potentially earn right away."
"I have used many different books in the past, including other bitcoin books. My bookie is simply the best. With the great interface, to a wide variety of games (including live) to wager there is simply no better book than MyBookie."
And that just about covers our deep dive into bet MyBookie. Overall, it's a leader in the sports betting marketplace — a position it likely won't give up anytime soon.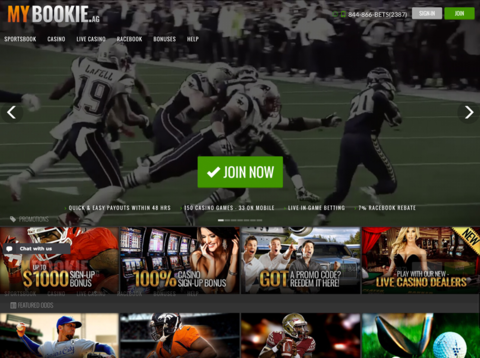 ---
MyBookie Review FAQs
Is MyBooke safe?

Yes, it is! You can trust MyBookie to process your payouts according to their transparent terms.

Is there live betting at MyBookie?

Yes, you can enjoy in-game betting at MyBookie!

What sports can I bet on at MyBookie?

They cover all the major sports, like the NFL, NHL, NBA, and more! They even dive into more obscure sports like snookers and darts!

How do I contact MyBookie customer support?

You can use the live chat feature directly in the MyBookie sportsbook, or send an email to [email protected].

Where is MyBookie licensed?

MyBookie is licensed within Curacao, which makes it available for use in the United States.