BetUS Sportsbook Review
What's in it for you?
Plethora of betting lines and games available
High-earning bonus deals
Loyalty program for returning players
Everyone deserves a second (or third) chance, including BetUS. The long-time betting site has been around since 1994 but in recent times, has been marred by its bad reputation. However, a new ownership group has taken reigns of BetUS and is attempting to right some of those wrongs. How does it hold up? That's the focal point of this BetUS sportsbook review.
Throughout this article, we break down the new-look BetUS — its gambling lines, trustworthiness, bonuses, payment methods, etc. What's there to like? What's there not to like? We'll answer all those questions, plus a whole lot more, by the end of the review.
Our BetNow rating
Bonuses

10/10

Deposit Methods

7/10

Betting Lines

7.5/10

Betting Lines

9/10

Betting Lines

8/10

Betting Lines

8.5/10
Plethora of betting lines and games available
High-earning bonus deals
Loyalty program for returning players
BetUS Bonus
BONUS INTRODUCTION – Sign up for an account, make an initial deposit, and players are eligible for up to 125 percent cash bonus in both the BetUS sportsbook and casino.
Deposit and Claim this $2500 Bonus
Special Welcome Bonus at BetUS
BetUS has a new sign-up deal for new customers interested in betting on sports. They are offering a spectacular 125% sign-up bonus up to $2,500. use the BetUS Promo code TOP125.
Click here to claim this bonus.
Terms and Conditions:
A minimum deposit of $100 is required to qualify for the bonus.
You will receive a 125% bonus on your qualifying first deposit.
125% sports bonus, up to $2,500, 10X rollover
In order to receive a bonus you must use the promo code TOP125 in the cashier while making your deposit.
This promotion is non-transferable.
Sports bonuses can only be used in the sportsbook, casino free plays in the casino.
BetUS reserves the right to alter or amend the terms and conditions of this promotion at any time without notice.
Please see BetUS' general rules for additional terms and conditions regarding bonuses.
Big Bonuses To Be Had At BetUS
Perhaps in an effort to lure back lost customers, BetUS has really gone all out with its bonuses and promotions. Compared to some of the best sports betting sites, BetUS offers as much bang for your buck as any competitor.
For starters, the BetUS welcome bonus is a 125-percent match — 100 percent going to the sportsbook and the other 25 percent going to the casino. That sports-and-casino combo makes BetUS unique since most betting sites keep the two separated. When maxed out, the deal can reach as much as $3,125 in free play.
But wait, it gets better. Say a player's first deposit is done with crypto (more on these payment options next), then the welcome deal is increased to 150 percent — 100 percent again going to sports, but 50 percent for casino this time around. This crypto-specific bonus can reach as much as $7,500 in free earnings. That's a monster deal, one that very well might be the highest around.
Visit this page for more details on BetUS' bonus.
BetUS Loyalty Program
While sign-up bonuses are definitely aimed at first-time players, BetUS' loyalty program is geared for repeat players. The service rewards players for consistent playthrough in the sportsbook.
Here's how it works: every time you bet on sports at BetUS, you'll rack up points from the site. The number of points you accumulate will slot you into one of six loyalty tiers — blue, silver, gold, platinum, diamond, and black. Each level has its own unique perks, which include free cashouts, contest entries, extra reload bonuses, and more.
A loyalty program like this really adds over the long haul. However, it's currently lacking the ability to earn cashback from said loyalty points. This feature holds it back, especially compared to other loyalty programs in the marketplace.
How To Deposit Money Into BetUS
After creating an account, you'll need to fund it before making a wager. From there, players have three deposit options on the site — credit or debit card, cryptocurrency, and via telephone.
On the card side, BetUS accepts only Mastercard and VISA. That's in-line with most of the industry since other carriers like Chase or American Express are rarely supported anywhere.
More deposit options exist with crypto, however. Here, BetUS supports Bitcoin, Bitcoin Cash, Ethereum, and Litecoin. Like we pointed out before, it really pays to play with crypto at BetUS, particularly with those bonus deals.
And for those unfamiliar or new to cryptocurrency, BetUS maintains a "crypto specialist" telephone line to help with the payment method. This number can be reached at 1-800-966-7279 and it'll walk users through setting up an e-wallet for transferring crypto funds in and out of BetUS.
BetUS Sportsbook Review
As you'd guess by the site's name itself, the BetUS sportsbook leans heavy on American sports. The wagering menu is dominated by the "big four" leagues — the NFL, NBA, MLB, and NHL. Within each of those, you'll find all the usual bet types such as spreads, moneylines, props, futures, etc.
Nonetheless, international-minded sports bettors shouldn't be deterred. BetUS sports also provide ample lines for soccer, rugby, cricket, and other sports with more overseas popularity. Given that, plus the US sport coverage, BetUS could serve as a one-stop-shop for all betting needs, as it's hard to find a league or game not covered by the book.
We found the quality of BetUS odds to be up to snuff with most competitors, too. This use to be a bigger sticking point in sportsbook reviews in the past, however, most odds are pretty consistent across the marketplace these days. Las Vegas casinos set most odds and online bookmakers typically follow it to a tee — besides shaving or adding a few points here and there.
BetUS Live Betting Capabilities
In the top menu, there's a tab titled "live betting." This is where you'll find every BetUS live line that's offered at the given moment.
In-play betting is definitely a big priority at the sportsbook. For one, there's a huge selection of games with the capability. That goes for a wide array of sports and leagues. You can find a calendar at the site that lists every upcoming matchup that'll carry live odds.
Furthermore, BetUS does a stand-up job at updating odds in real-time. Even a few seconds lag could derail the entire live betting system, but BetUS typically always stays ahead of the action unfolding on live TV.
Gambling On The Go With BetUS Mobile
Let's get this out of the way with: there is no BetUS mobile app. You know, the downloadable ones you'll find in the Google Play or Apple App Store.
Nonetheless, BetUS mobile betting is still doable. It can be done through the BetUS site, which can be accessed from any mobile-based browser. The site is fully responsive, meaning the experience between desktop and mobile is mostly seamless.
Every single BetUS site feature is also available on the mobile site. However, features like in-play are really heightened when on a cellular device. This makes wagering while at a friend's or at the bar easy as can be.
BetUS Casino Review
It's become almost a necessity for online betting sites to supplement their sportsbook with a full-on casino. Thus, it's no surprise BetUS features a pretty extensive casino counterpart in its own right.
You'll find a hundred or so casino games to play at BetUS. "The Slot Zone," as BetUS calls it, will represent the bulk of those options with simulated slot machines.
Beyond that, you'll also find many of the table game staples — blackjack (in a bunch of variations), poker, craps, roulette, etc — that you'd also see in a Las Vegas-style casino. Table limits will vary by game, but high rollers and modest bettors alike will be covered. There's even a live casino in case players want to mimic the real-life gambling experience with a human dealer.
All in all, the BetUS casino offers a plethora of game options. It'll take users a long — and we mean long — time to play through everything at least once. The casino at BetUS is a perfect sidekick to the sportsbook.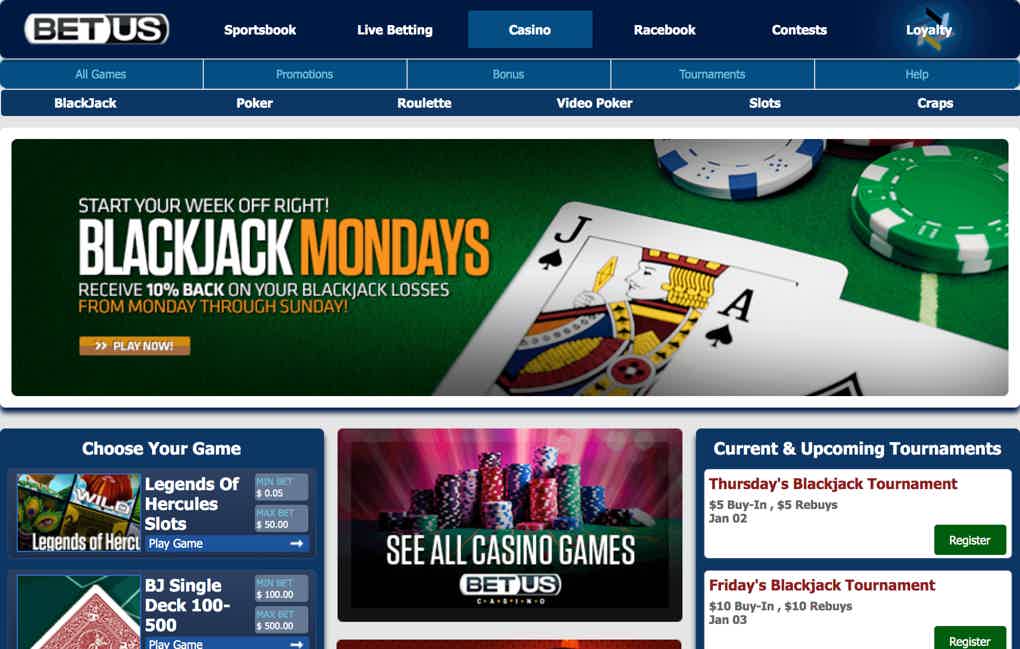 Daily Contests or Promotions Is The BetUS Secret Sauce
If we're being honest, few betting sites across the marketplace love themselves daily deals more than BetUS, particularly inside the casino.
BetUS offers daily tournaments, mostly for blackjack and poker. Buy-ins are relatively cheap at $5 or $10 a pop, but tourney prizes go into the thousands. Joining a contest is a great way to spice up the casino action.
Of course, some daily contests also exist on the sportsbook side (though, not as many). These swap out seasonally depending on the major sport being played at the time. As an example, during football season, you'll find survivor pools, point squares, or weekly pick 'ems. These types of contests are a great way to break up the monotony of just betting spreads or over/under point totals.
And that does it for our BetUS review. Slowly but surely, BetUS is turning the corner. With second-to-none bonuses and betting markets, it won't be long before bettors catch on. In a few short years, we could see BetUS being one of the top players in online betting.
---
BetUS Review FAQs
Is BetUS legit?

Yes, you can feel good signing up at BetUS!

When was BetUS founded?

BetUS is a veteran! It has been around since 1994!

How can I reach BetUS?

They have live customer service agents available via the chat feature on their website.

How do I sign up with BetUS?

Click the link on this page to go to their registration page, where you can enter your details, verify your identity and start betting!

How do I enroll in the BetUS loyalty prgram?

All new players are automatically part of the loyalty program. Just start betting to start collecting points!