BetUS Review
What's in it for you?
Plethora of betting lines and games available
Unique tiered bonus package for new sign-ups
Loyalty program for returning players
On the surface, BetUS seems to check a lot of the boxes you're looking for in a betting site — a bevy of gambling lines, in-play sports wagering, multiple bonuses and promotions, fully-dedicated casino, just to name a few. But dig a little deeper and you'll see Bet US hasn't always played fair with bettors. 
Throughout this BetUS com review, we'll give you the full scoop on this complicated betting site. We combined our own playing experience with online BetUS reviews to formulate our opinion. And trust us, we're not pulling any punches either. This is a bias-free look at BetUS, including the good, the bad, and the ugly!
Our BetNow rating
Bonuses

7.5/10

Deposit Methods

9/10

Payout Methods

8.5/10

Betting Lines

9.5/10

Website Review

6/10

Casino Review

8.5/10
Plethora of betting lines and games available
Unique tiered bonus package for new sign-ups
Loyalty program for returning players
Bad reputation among bettors
BetUS Bonus
BONUS INTRODUCTION – Sign up for an account, make an initial deposit, and players are eligible for up to a 50 percent cash bonus on BetUS. 
Deposit and Claim this 50% Bonus
BetUS Payment Options
The best sports betting sites making transferring money — both in and out — of the service painstakingly-free. The worst online sportsbooks, however, cause one headache after another, particularly when trying to get paid out.
So where does BetUS pa fall into the spectrum? Welp, it's somewhere in the middle, as we're about to break down.
How To Deposit Money Into BetUS
After creating an account, you'll need to fund it before making a wager.
Currently, BetUS has four deposit options — bank wire cash transfer, credit or debit card, and cryptocurrency. Not all four are created equal, though.
Transfers are done through cryptocurrency, cash transfer, and card will post to your account the fastest. All three methods are almost immediate, although crypto can take half an hour in worst-case situations. Bank wire will vary depending on your banking institution.
Cryptocurrency has the highest deposit limits at $5,000 per transaction. That max amount is slashed in half when using card or cash transfer at $2,500. Across all three you'll get a $50 minimum deposit, though.
BetUS currently accepts four forms of crypto — Bitcoin, Bitcoin Cash, Ethereum, and Litecoin. On the card side, American Express, Mastercard, and VISA are available for use at BetUS.
How To Withdraw Money Into BetUS
When it comes to BetUS payout reviews, the same methods used to deposit can also be used for withdrawal — minus debit or credit card. Payouts can be accomplished online through your user account or by calling BetUS direct (if you can get on a line with them).
Using crypto again shows its value here. Akin to depositing with the digital currency, these will be your fastest and cheapest cashout method by far.  
When it comes to cashing out, the daily max limit is $3,000 no matter the option. That's a pretty strict amount that can handcuff high-rolling or one-hit-wonder players.  
We'd be remiss to mention that getting paid out has been another long-winded complaint about BetUS from online reviewers. Horror stories are abundant throughout the Internet of bounced checks, gift card payouts rather than cash, or canceled payments altogether. More than anything, the issue seems to arise when players win big (which might explain the $3,000 withdrawal limit). 
As we advised earlier, play it safe with BetUS. It's on them to earn your trust, not the other way around.
BetUS Sportsbook Review
Moving on to our BetUS sportsbook review, how does the site actually fare when it comes to BetUS sports betting? For starters, Bet US sports has an extremely wide selection of bets available — both in the games and leagues covered, as well as actual bet types. 
All major sports and leagues are housed in the sportsbook, including American favorites such as NFL, NBA, and MLB. However, international bettors can also get their fix with lines for international soccer, rugby, cricket, and more. BetUS could serve as a one-stop shop for all your betting needs, as it's hard to find a league or game not covered by the book. 
We found the quality of lines to be up to snuff with most competitors. This use to be a bigger sticking point in sportsbook reviews in the past, however, most odds are pretty consistent across the market these days. Las Vegas casinos set most odds and online bookmakers typically follow it to a tee — besides shaving or adding a few points here and there.
Live Betting on BetUS
A live betting feature is pretty fleshed out on BetUS. Its top-hand website menu has it listed there for quick access. In-play betting can be done both through desktop or BetUS mobile.
Speaking of mobile, there's no app to download to access BetUS mobile. Just simply open up a web browser on your iOS or Android device and you'll be redirected to the mobile site, which is a mirror image of the real thing. 
Live betting works exactly the same whether on desktop or mobile. In our experience, BetUS is pretty good at updating their in-play odds as the action unfolds in real-time.
Though, not every single game is supported with live betting options. This is typically reserved for the more marquee sports matchups. Games held in popular leagues like the NFL, NBA, or English Premier League are most likely to receive in-play support.  
BetUS Casino Review
It's become almost a necessity for online betting sites to supplement their sportsbook with a full-on casino. Thus, it's no surprise BetUS features a pretty extensive casino counterpart in its own right. 
You'll find a hundred or so casino games to play at BetUS. "The Slot Zone," as BetUS calls it, will represent the bulk of those options with simulated machines. 
Beyond that, you'll also find many of the table game staples — blackjack (in a bunch of variations), poker, craps, roulette, etc — that you'd also see in a Las Vegas-style casino. Table limits will vary by game, but high rollers and modest bettors alike will be covered. There's even a live casino in case players want to mimic the real-life gambling experience with a human dealer.
All in all, the BetUS casino is pretty much what you'd expect from a betting site — not great, but adequate. That's not a knock on BetUS, either. It just feels like once you've played one betting site casino, you've played them all. By and large, the playing experience is pretty similar across the industry.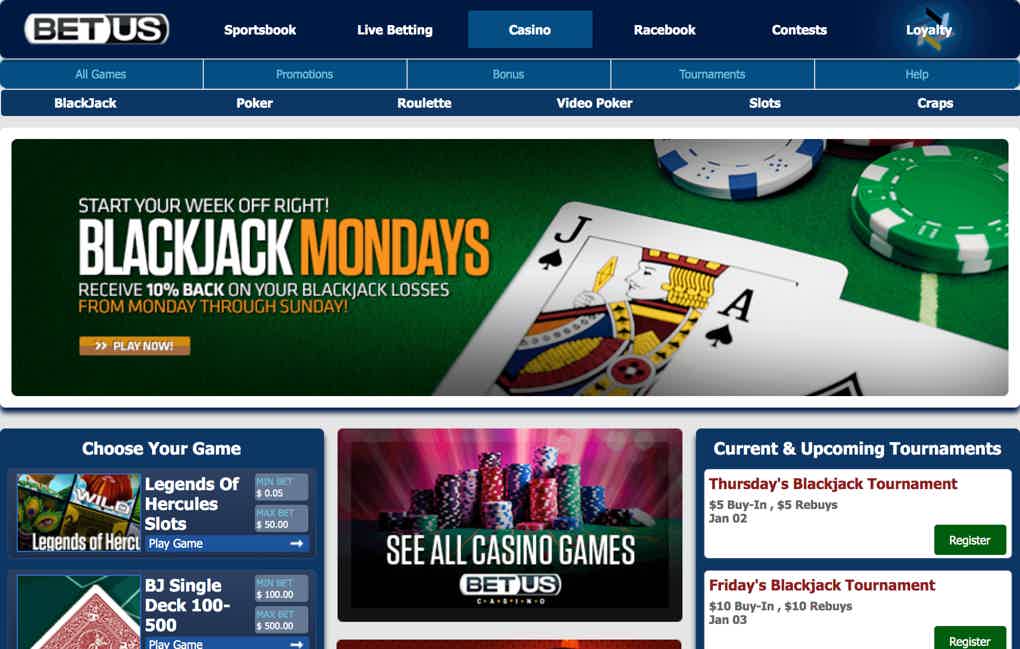 Daily Contests or Promotions Is The BetUS Secret Sauce
If we're being honest, few betting sites across the marketplace love themselves daily deals more than BetUS, particularly inside the casino.
The daily deals come in alliteration form, too — Money Back Mondays, Trifecta Thursdays, and Super Slot Fridays are just a few catchy examples. It's obvious BetUS put a lot of creative thought and energy into creating these promotions, which makes gambling on them all that more fun.
Of course, some daily contests also exist in the sportsbook side (though, not as many). These swap out seasonally depending on the major sport being played at the time. As an example, during football season, you'll find survivor pools, point squares, or weekly pick 'ems. These contests are a great way to break up the monotony of just betting spreads or over/under point totals.
And that does it for our BetUS review. We've said this more than once already, but it bears repeating again: play it safe when wagering at BetUS. There's a lot to like from BetUS, but its not-so-good reputation hangs over it like a dark cloud. BetUS needs to prove themselves to bettors — for an extended period of time, no less — before it can be back in good graces.