Bookmaker EU Review
What's in it for you?
Rewards program with free play
Huge selection of betting options
Strong mobile betting platform with in-play
Hardcore online bettors inside America are familiar with the Bookmaker EU moniker. It's been a trusted betting site under that domain since the mid-2000s.
Not only trusted, but Bookmaker has also proved itself as one of the top-end betting services found online. On its site, you'll find dedicated platforms for its sportsbook, racebook, and casino. Unfamiliar or first-time players can test the site by taking advantage of one of Bookmaker's best betting site offers. 
Still not sold? Perhaps our Bookmaker review can help. Here's everything you need to know about Bookmaker before you even make a wager!
Our Bookmaker rating
Bonuses

9/10

Deposit Methods

8.5/10

Payout Methods

7.5/10

Betting Lines

9/10

Website Review

9.5/10

Casino Review

8.5/10
Rewards program with free play
Huge selection of betting options
Strong mobile betting platform with in-play
Limited money withdrawal options
Bookmaker Bonus
GIMME THIS BONUS! - Get started with a 15% welcome offer, valued up to $600, that comes with your initial deposit as a promotional bonus. Or deposit with Bitcoin and get 100% up to $300!
Deposit and Claim this $600 Bonus
Bookmaker EU Mobile Review
Bettors want to wager whenever and wherever they might be at that particular moment. To satisfy those always-on needs, betting sites have gone all-in on amplifying the mobile betting experience. 
Bookmaker is no different in this regard. Its website, when accessed via any mobile phone or tablet, will scale to the size of the screen without flinching. That means the same experience you have on desktop transfers over to mobile seamlessly.
A big benefit to this is no additional applications need to be downloaded from Apple's App Store or the Google Play Store. Just use the built-in web browser on your mobile device to launch the site per normal and you're good to go.  
What Bets Are Available To Make On Bookmaker Mobile?
Every single one. Seriously. 
As we said, there's no dropoff between using Bookmaker on a real computer to a mobile device and that includes the bets offered. Spread, moneyline, prop bet, live betting, you name it, all are carried over into the mobile experience. 
Making bets on mobile is also pain-free. You just need to sign in to your betting account with your regular login credentials. From there, use the main menu to track down your bet and place it per usual. 
An issue some bettors run into — not at Bookmaker, but elsewhere — is accidentally pressing a wrong button and being locked into an unwanted bet cause of it. This is more likely to happen on mobile with an accidental swipe or touch. However, to avoid this costly problem, Bookmaker has confirmation messages that users must accept before finalizing any bets. Problem solved.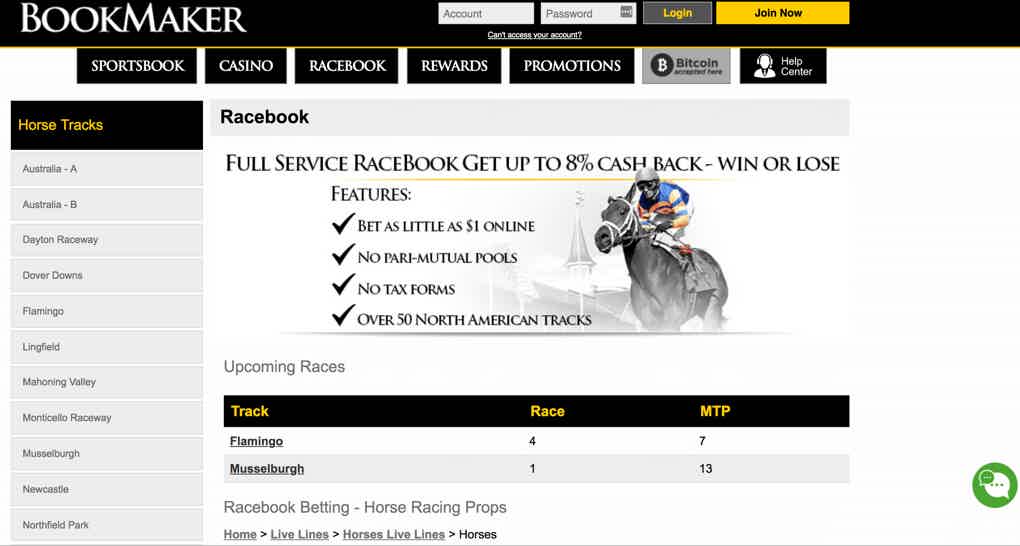 Bookmaker Rewards Program 101
One of Bookmaker com best features is its full-fledged loyalty program. The service is dubbed BookMaker BetPoints and all users, new or returning, are automatically registered into it. 
Points are earned from wagering inside the sportsbook or casino. Those points will vary depending on the bet you make. For instance, parlay wagers are worth double the points of a straight bet. Additionally, live betting and moneylines (on football and basketball, both pro and college) don't count toward BetPoints.
Reading through the BetPoints FAQ should be mandatory for players. Here, you'll see the breakdown of how points are earned and other pertinent info to the program. 
The BetPoints rewards program is broken up into three tiers — Gold, Platinum, and Diamond (in order from lowest to highest). Unsurprisingly, the higher the tier, the better the rewards and bonuses. Players can ascend through the tiers by reaching certain point thresholds. 
Free cash is end-all, be-all reward. For instance, earning 500 Betpoints is worth $2.25 in free play in the Gold tier (it increases by 25 cents each tier after that for the same point total).  
But best of all, there's zero rollover requirements on free play earned from BetPoints. "Free money" isn't always free in online betting, but it actually is with Bookmaker's rewards service.
All details on Bookmaker's bonuses can be found here.
Getting Payouts on Bookmaker
Moving on to our Bookmaker payout review. Honestly, asking for a Bookmaker payout is a bit cumbersome. 
Players need to request a cashout via email or Bookmaker's customer service line. You won't find a web portal where this can be done without having to actually contact someone. Moreover, payouts are only processed during business hours — Monday through Friday, from 9 am to 5 pm. 
While the cashout process is less than ideal, the withdrawal methods are what you'd expect in today's betting climate. Bookmaker pays out through check, wire transfer, or Bitcoin (more on this shortly). 
A check will be your longest wait time. Once a cashout is processed, it can take as much as seven business days before it is delivered to your home address — this will all vary depending on your location, of course. On top of a long wait time, you'll be docked a $50 fee on each transaction.
Wiring money is a slightly better experience. Transaction times are typically between two and three business days. Though, it will also come with a fee per use. This surcharge depends on the amount cashed out, but it's typically either $25 or $50 flat.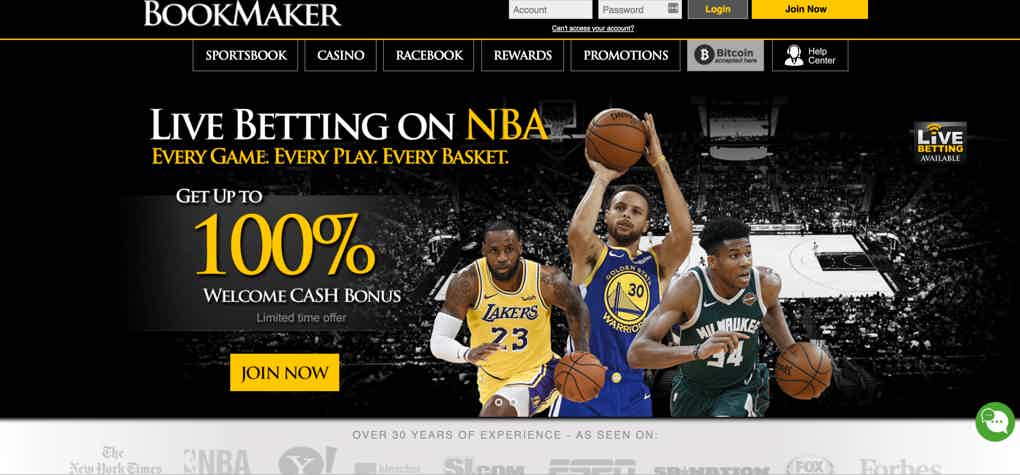 How Does Bitcoin Work On Bookmaker?
In short, Bitcoin works well on Bookmaker — like really well. Given all its benefits, there's no reason why Bookmaker withdrawal Bitcoin shouldn't be your go-to method for transferring money in and out of the site. 
Being a digital currency, Bitcoin isn't processed through traditional banks and instead goes through a blockchain. Therefore, money can be transferred around almost instantaneously, which means less wait times for you on deposits and withdrawals. 
Not only is Bitcoin quick, but it's also cheap and safe. There are little to no transaction fees on Bitcoin transfers. It's also a more private method to pay, leaving you less vulnerable to threats than using a credit or debit card. 

How To Deposit Money Into Bookmaker
Last but not least, let's finish our Bookmaker sportsbook review by addressing its array of deposit methods. 
We just went over Bitcoin, but it must be said this is far from the only cryptocurrency accepted on Bookmaker. There are dozens of more crypto options to choose from including Ethereum, Litecoin, Ripple, etc. It's seriously one of the most robust crypto selections offered by any betting site on the market. 
While we believe there are overwhelming advantages to using crypto to transfer money into Bookmaker, we do realize not all users are ready to join the digital currency bandwagon. That's fine and there are plenty of other deposit options to choose from outside crypto. 
Debit and credit card is one of those options. Bookmaker currently accepts Mastercard, VISA, and American Express — the latter of which being a rare inclusion compared to competitors. Just make sure your card provider is aware that you'll be making an international purchase or risk it being flagged. No fees will be charged on credit or debit deposits and transactions process in minutes.