Indy 500 Betting Picks
They don't call it "The Greatest Spectacle in Racing" for nothing! The Indy 500 is indeed a special race — not only in IndyCar but all of the motorsports. With the 105th edition approaching, here's how you should bet the event to win the big bucks!
Which driver will be chugging milk by the end of the 2021 running of the Indianapolis 500? We have an idea and we'll be sharing all our Indy 500 betting predictions in this article.
But before we get to that, we need to know how online bookies are even pegging the race, which happens on May 30. Here are the current betting favorites to grab the victory:
Of course, there are more drivers in the Indy 500 than just the seven featured above. The entire field includes 33 cars and as you'd expect with a high-octane race, anything can happen on the famed Brickyard track.
That's why it's optimal to bet on multiple drivers to win — in case that unpredictability strikes (spoiler alert: it probably will). With that in mind, here are the three drivers we feel are most deserving of a winning wager.  
Indy 500 Betting Pick: Scott Dixon (+350)
The 33 drivers that line up to race at Brickyard on Sunday will be the fastest group in history. Given the rich history of this race, that's not a small accomplishment. During qualifying, the field average across the group was an eye-popping 230.294 miles per hour — breaking the previous record set in 2014 by almost an entire mile. 
However, the driver setting the pace in qualifiers was Dixon. Get this, his qualifying time was 231.685 MPH — which was the fifth-highest qualifying time at Indy ever. Fifth all-time, folks!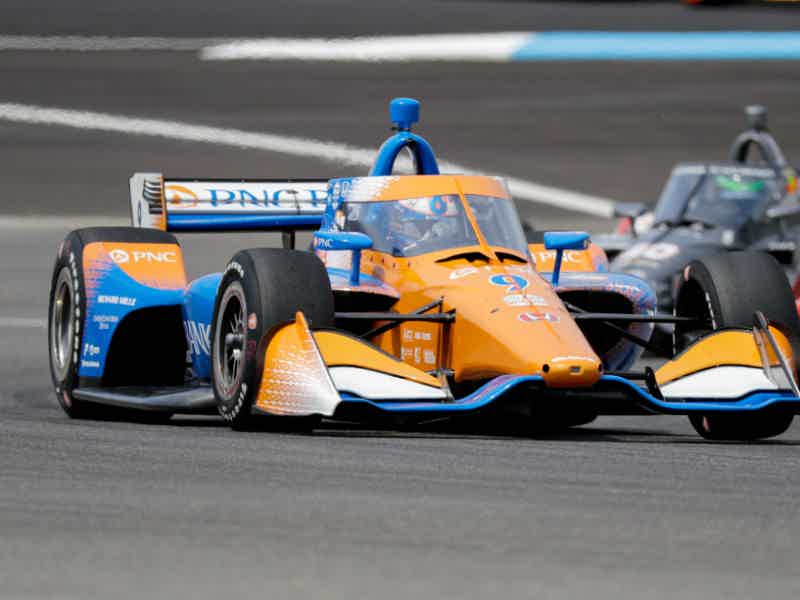 That alone should give you enough reason to wager with Dixon here. Need one more reason? Welp, with the blazing-fast qualifying time, Dixon won the pole for the Indy 500. His only career victory at Brickyard was in 2008 — when he also won the pole beforehand. Could we see some deja vu?
We certainly think so. To no one's surprise, he's having another phenomenal racing year thus far. Dixon is atop the IndyCar Series standings after five events. He's finished top-5 four times and won the first Grand Prix of Texas event only weeks ago. Momentum is high for Dixon and we're riding that all the way to the bank!
Oh, and did we mention this Dixon fella is the best driver of his generation? Yep, the stars seem to be aligned for Dixon to douse himself in milk at Indianapolis for the second time in his esteemed career. 
Indy 500 Betting Pick: Colton Herta
Pole position matters big time in racing. While Dixon has the upper hand starting first on the grid, right on his tail will be Herta.
Herta and Dixon were neck-and-neck during qualifying. In the end, Herta's four-lap qualifier average was 231.655 — a meager 0.03 (roughly six feet) behind Dixon. Herta followed that with another promising run at the Fast Nine Shootout to lock up the provisional pole. Joining Herta and Dixon in the first row at Indy will be Rinus VeeKay.
What's ironic is Herta and VeeKay are the combined age of Dixon. Herta is 21 years old and VeeKay is only 20 (in fact, he's the youngest front-row racer at Indy in its 105-event history). A youth movement is currently happening in IndyCar and Herta could speed up that transition to the "new guard" with an upset of Dixon at Indianapolis. Given his qualifying performance, the young gun is worth a gamble. 
Indy 500 Betting Pick: Juan Pablo Montoya (+3300)
After using our first two picks on race co-favorites, we didn't want our last choice to be another betting front-runner. Instead, we wanted to go with a "longshot" that provides the most betting value. Montoya definitely checks that box and then some.
Montoya is a two-time winner of the Indy 500 (in 2000 and 2015), yet has steep winning odds at +3300. While starting in row eight won't do him any favors on Sunday, he has the championship experience to make up for it. At this price, Montoya is a perfect "bang for your buck" bet. 
If you want to see Indy 500 odds for the entire racing field, give one of the online sportsbooks below a look. These betting sites can also take your bets — just make sure it's before race time, which is expected to be at 12:30 pm EST on Sunday, May 30. NBC will air the event live for those that want to follow along.  
But here's the real kicker: these bookmakers are currently offering lucrative sign-up bonuses to new players of the site. Bonuses are earned upon depositing money into your account after registration. How much you deposit determines the reward amount. Offer details are covered in the table underneath. As you can see, bonuses are worth thousands of dollars in free play. 
Our advice is to redeem a bonus before the Indy 500 goes off. You can then use that earned free play to drop bets on the big race — either spend it all in one fell swoop or save some funds for other sports, the choice is yours!