> Take me there!
5Dimes Sportsbook Bonus
5Dimes Sign Up Bonus
The 5Dimes sportsbook does welcome bonuses like no one else — and that's saying something considering the volume of betting site promotions and offers out there. 5Dimes' success comes from providing bettors with a multitude of deals to choose from, and we mean multitude.
Upon creating an account on 5Dimes, new signees can choose one of eight bonuses. Yes, eight!
No two are the same as 5Dimes bonus will range from the usual initial deposit match to rebates on losses to reduce lines (which is unique in itself). There's seriously something for everyone! 
With so much variety, which 5Dimes promo is right for you? Welp, you're about to find out. This guide will give you the full breakdown on all eight welcome deals!
0
Bonus
CLOSED to US players
1

Create your account on 5Dimes => click here

2

Activate your personal wagering account today!

3

Initiate a FEE FREE first time deposit of at least $100

4

Profit from up to $520 in cash back bonus offers!
Worth noting about 5Dimes
Pick your welcome bonus or rewards package
Huge casino stocked with games
Long-established history
So how can I claim this bonus?
Got $100? Then deposit that little and get cracking
Sign up Now
5Dimes Welcome Bonus Promotions
As mentioned, new signees to 5Dimes get their pick at a bonus or reward to redeem. Presently, 5Dimes has eight separate options for new players to choose from.
Users can only select one 5Dimes welcome bonus to redeem (no 5Dimes coupon code necessary on any one), which is far from an easy decision to make given each deal has its own unique pros and cons. To make the choice easier on you, we're about to break down all eight 5Dimes promos in full. 
The Traditional 5Dimes Sportsbook Sign-Up Bonus 
We're calling this one "traditional" because it's the most common welcome bonus across the entire industry (though not necessarily 5Dimes' most popular). They all work in the exact same manner: sign up for an account, fund your betting account, and you'll receive free play in return.  
The amount of free play earned is determined by the dollar amount you deposit. Whatever that sum is will be matched 50 percent by 5Dimes in free cash. Bonus earnings are capped at $200, well, sort of.
We say sort of because there is one caveat. For first-time deposits between $400 and $2000, players are eligible for an additional 20-percent bonus. 
Here's an example to make the bonus rules clear. Say you deposit $1000 off the bat. The first $400 earns you the 50-percent bonus that's maxed out at $200. However, the extra $600 is credited with the 20-percent bonus, which amounts to $120. Add the two together and you have a $320 welcome package off that $1000 deposit.  
What we just outlined applies only to the first deposit made after account creation. Reloading or re-upping your account is a separate bonus in itself. That one is matched at 20 percent of the deposited amount up to $500.
The 20-percent bonus applies to reloads between $250 and $2500. Re-ups below that $250 sum will automatically be credited $40 in free play — no matter the exact deposited amount. You can also re-up for more than $2500, but you'll be capped at $500 in free play. 
Both bonuses are awarded for deposits into the sportsbook only, not the casino. Not to worry, however, the casino has its own welcome bonus that works similarly, though less lucratively. 
5Dimes Casino Sign-Up And Reload Bonus 
Here, new sign-ups are also eligible for a 50-percent bonus match, however, the max MatchPlay that can be netted is only $125 — barely over half of the sportsbook free play. That's a surprising twist since the industry norm is for casino sign up bonuses to outpace sportsbook counterparts when it comes to netting hefty payouts. 
The casino reload bonus is slightly better at 33 percent. However, MatchPlay is capped at a very modest $100. 
It must be noted that MatchPlay earnings can not be leveraged in craps, roulette, baccarat, or progressive slots. 
5Dimes' Famous Reduced Juice Bonus
Alright, this reward is really what 5Dimes is known for. New signees are defaulted into this option unless they choose one of the other seven bonuses.
For the novice bettors, "juice" refers to the hidden bookie fee added on top of betting lines — usually at 10 percent. For most spreads or over/unders, you'll see odds listed at -110, meaning you have to risk $110 to win $100. That extra $10 you're wagering is the cut sportsbooks make off the bet. In a perfect world, a sportsbook will draw a 50-50 betting split on matchups, thus guaranteeing a 10-percent profit from the juice alone on losing tickets. 
At 5Dimes, reduced juice means those odds suddenly come down to -105 — thus a half-off discount on the juice. That's a double whammy win for bettors because now they are risking less, while possibly winning more.  
Reduced juice is available on a wealth of bets at 5Dimes. This ranges from NFL to NBA to MMA and everything in between. Typically, the reduce juiced lines will be posted on the day of the event. Only straight wagers will benefit from reduced juice, while parlays will not. 
5Dimes does restrict betting limits on reduced juice bets, though. The max risk is $500 per reduced juice wager. 
Shaving -5 off the juice might not seem like a big deal, but if you plan on betting regularly at 5Dimes, the reduced price really proves its value in the long haul. 
5Dimes Cash Back On Losses
Rebates are also offered on combined losses across the 5Dimes sportsbook, racebook, casino, and lottery room. Bettors have three different redemption options off this deal (only one can be chosen):
20 percent cash back: This one can only be requested twice a year, but 20 percent is a large rebate if ever one. 
15 percent cash back: Here you can redeem the bonus once every 30 days.
10 percent cash back: Lastly, this one is awarded on a weekly basis, every Tuesday.
Refunds are nice and all, but we just feel icky about picking this 5Dimes promo over the others. It just feels like an early surrender on the players' part. Let's be honest, who wants to bank on losing to receive a reward? Not us. 
5Dimes Casino Rebate
If you're a hardcore casino player, this offshoot cash back bonus will be right up your alley. It works akin to the aforementioned rebates, but applies strictly to casino losses. With this one, player's have two redemption options:
21 percent rebate: This promo can be claimed on a monthly basis.
14 percent rebate: Whereas this one is redeemable once a week, every Wednesday.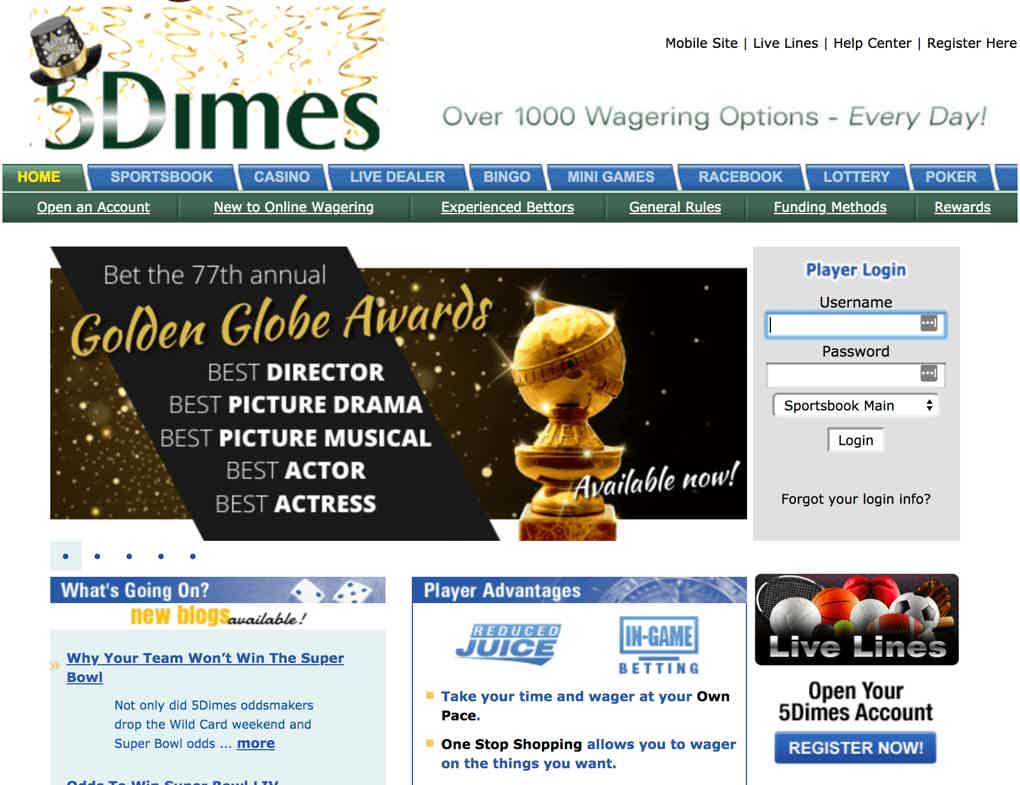 5Dimes Super Saver Reward
This 5Dimes welcome bonus is a spin-off of the reduced juice deal. They work almost identical, but with two major differences.
The juice reduction here is -107 — which is a 30-percent saving over the standard -110. It's not as good as the -105 odds offered by the standard reduced juice deal, but it's awfully close.  
But here's the bigger catch. Unlike the normal deal, parlays are completely in play with this 5Dimes promo. If you're a heavy parlay player, this deal should be in your sights.  
5Dimes Point Mover Promotion
Hardened sports bettors know there's no worse feeling than losing a wager by a point, or worse, half a point. However, this 5Dimes bonus attempts to rid players of that pesky problem once and for all. 
With it, bettors can shave points — up to 15 or 20 points — off spreads and point totals at a discounted price. This point-shaving feature is available to all 5Dimes bettors, but those with the promo will get better pricing. 
The promotion can be applied to straight wagers, parlays, and even teasers (where the real value is). Football and basketball games are fair game, though, point-shaving will vary depending on the bet type. 
5Dimes Free Deposit Promotion
Talk about a unique 5Dimes bonus. If chosen, 5Dimes will cover your eighth AND ninth deposit on the house — yes, they'll pay it completely. As much as $5000 can be earned courtesy of 5Dimes.
To qualify, you first must've made seven 5Dimes deposits before. Not only that but the deposited amount for each needs to be completely exhausted from your account. 5Dimes has a unique formula to calculate what your bonus will be based on the sum of your first seven deposits and net losses. 
A deal like this is more for the high roller that plans on sticking around 5Dimes for the long haul and betting big while at it.  
5Dimes Free Payout Promotion
Honestly, this one isn't worth your time. But essentially, it's a free payout to use once every month. Withdrawal methods that charge fees (which can range between $40 and $80) are bank wire, check, and money order. If you really want to cash out for free, just opt for Bitcoin withdrawals, which are always free of charge — with or without this promo.
So there you have it, folks, all eight 5Dimes welcome bonuses! Now the toughest part, which will be your choice?