Bwin Sportsbook Review
What's in it for you?
Packed sports betting board
Unique bonuses offered
Plethora of money deposit options
The Bwin sportsbook is like no other. Seriously, how many other online betting sites have you seen front and center across the jerseys of prestigious European soccer clubs? 
Bwin's uniqueness isn't just savvy marketing either, it's offering an unrivaled betting experience in sports, casino, and poker. They've been doing so for two decades, gaining a cult-like following throughout Europe in the process. 
Our Bwin review has all the pertinent information you need to know about the site before even placing a bet. Reading through our detailed Bwin Sportsbook review will help you avoid any surprises once signed up for an account. 
Our Bovada rating
Bonuses

6/10

Deposit Methods

9/10

Payout Methods

7/10

Betting Lines

9/10

Website Review

9/10

Casino Review

8.5/10
Jam packed sports betting board
Unique bonuses offered
Plethora of money deposit options
USA sports is secondary to soccer
Bovada Sign-Up Bonus
GIMME THIS BONUS! - The Bwin sportsbook doesn't have a welcome bonus, but does refund 10 percent of weekly losses on US sports in the form of a free bet — up to $50.
Sign Up & Bet Now
Bwin Online Sports Betting
The Bwin brand mark has previously been sprawled across the jerseys of world-renowned soccer clubs like Real Madrid and AC Milan — and with that, worn on-pitch by the likes of Cristiano Ronaldo and David Beckham — so you can probably guess what sport Bwin really focuses on inside its sportsbook. 
Yeah, you guessed it, soccer is indeed king on Bwin online sport betting. The top international leagues — English Premier League, La Liga, Bundesliga, plus more — are all available for wagering. The same goes for big-time tournaments like the UEFA Champions League or FIFA World Cup. You'll find swaths of bets for these matches including props, spreads, moneylines, futures, and live betting.  
While soccer is Bwin's mainstay, it's far from the only sport supported on Bwin. More than 90 different sports are available for wagering on Bwin. Fear not North American sports bettors fear, the top US-based leagues (NFL, NBA, MLB, and NHL) are included in that 90-plus group, too. 
Moreover, Bwin recently introduced a brand-new Cash Out feature for its sportsbook. Now bettors have the leeway of cashing bets whenever they choose — even before the game starts. Of course, your original stake might be affected (especially when cashing out mid-game), but just having the added option is brownie points for our Bwin sports review.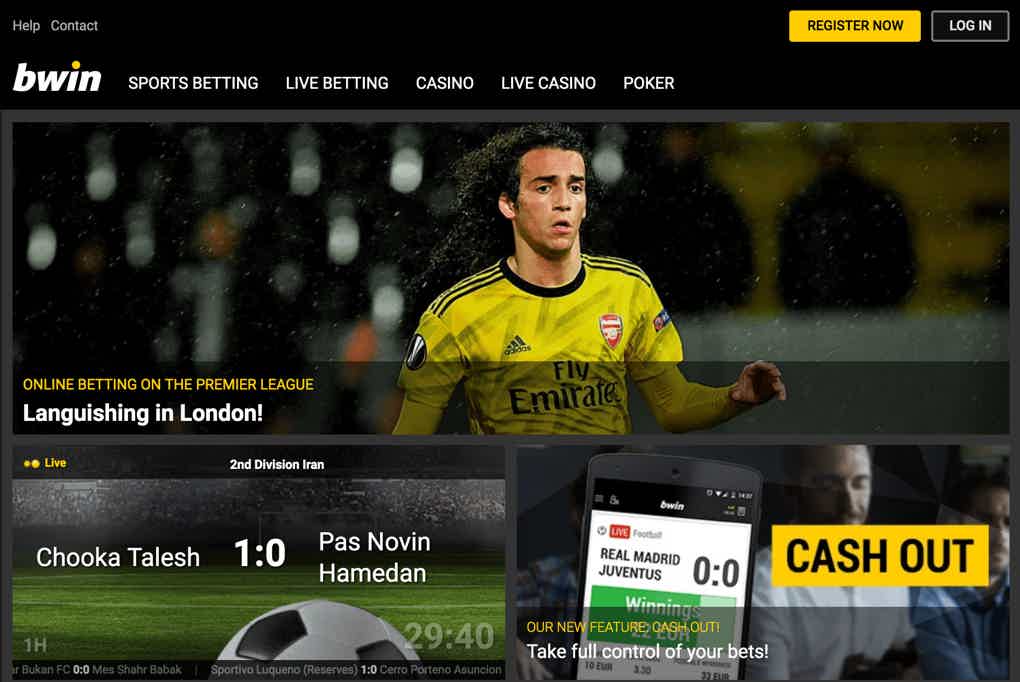 How Do I Open An Account on Bwin?
First things first, you need to be located inside a country that is supported by Bwin. The list of accepted countries is more than one hundred long. You'll find a lot of European countries on that list, which no surprise, is where a lot of Bwin's popularity stems from.
One big exclusion currently is the United States. While the sportsbook can be accessed from the US, registration — and with that, betting — is barred. That could change, however, as rumors of Bwin infiltrating the US market continue to swirl. 
The next prerequisite to signing up is age. The minimum age required to create an account is 18 years old — not a day less. 
Once you get past the legal red tape, creating an actual account on Bwin is largely effortless. You can get through the process in just minutes. Here's the step-by-step checklist:
On the Bwin website (any page), click the big yellow "Create an Account" button up top.
Enter all the relevant user info such as name, email, and password. 
Boom — that's all it takes to get set up on Bwin. Next, you'll need to deposit money (more on those options later) to make your first bet. 
Betting On The Go With Bwin Mobile
Today's bettors want the luxury of wagering whenever and wherever they so please. With that, any great betting site nowadays needs to offer an impeccable mobile betting experience or feel the backlash on Bwin customer reviews. 
Bwin's website is fully optimized for mobile use. Using either an Android or iOS device, access the Bwin site via a supported mobile browser — Chrome, Safari, Dolphin, and Mercury all work — and you now have access to all of Bwin's features on your device.  
When we say "all" we really mean it. Every betting line in the sportsbook, all casino games, and the entire poker room is available for wagering inside the mobile platform.
The entire user experience on mobile is a mirror image of the desktop website, sans a few buttons and menu changes to accommodate the smaller mobile screens. 
Do Users Need To Sign Up For Mobile?  
No, you don't. Your existing login credentials will give you access to the full breadth of features. If you haven't signed up for a Bwin account, that can also be done via mobile. 
Are there mobile-exclusive bonuses on Bwin mobile?
Currently no, however, every single bonus or promotion from the desktop site is also available for the taking on mobile. That includes free bets, deposit bonuses, and more.  
How To Use Bwin Casino App
While Bwin's site is mobile optimized, it does offer a downloadable app, as well. The app is for its casino section only, but not necessary to play by any means. Casino games can be played per usual via the mobile browser, but playing from the app can definitely smoothen the experience. 
The app is available on the iOS App Store and Android Google Play Store. It can not be found by searching through the store like any other app. Instead, you'll need to scan a QR code to be taken to a download link. QR codes for both stores can be found on the Bwin casino mobile web page.  
Casino staples like blackjack, roulette, and hundreds of slot games can be played on the mobile site or app, alike.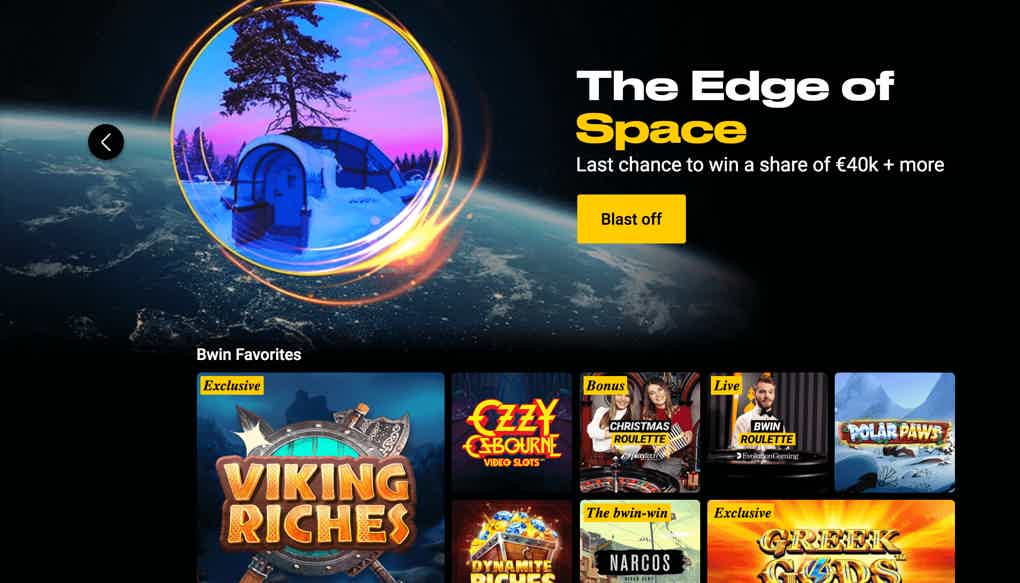 Bwin Deposit and Withdrawal Money Options 
No Bwin betting review would be complete without a breakdown on how to transfer money in and out of the betting site. As you'll see, Bwin does both really well.
How Do I Deposit Money Into Bwin?
By our count, Bwin has more than three dozen deposit methods to choose from — one of the highest amount by any online betting service. Let's cover the most popular ones quickly:
Bank transfer is perhaps the most popular method of inserting money into the account. Just make sure to give your banking institution a heads up as they could misconstrue a transfer as fraudulent. 
Next up is credit or debit card. Currently, Bwin accepts only VISA, Mastercard, and Maestro in this department. No different than a bank transfer, a friendly notification to your card provider is suggested to get authorization.  
Both Apple Pay and PayPal are also supported on Bwin. Despite the sheer popularity of both eWallets, few online sportsbooks actually back it. Bwin is a rare exception and a convenient one at that. 
Other supported methods on Bwin include Neteller, Skrill, Abaquoos, ecoPayz, among dozens of others.   
How Do I Cash Out Winnings On Bwin?
While options for getting paid out on Bwin aren't on par with depositing in the sheer number available, it's certainly not lacking, either.
A few of the big ones carry over for withdrawals, too. That group includes card services (VISA, Mastercard, and Maestro), eWallets (Paypal) and transfers (bank-to-bank or electronic via Neteller or Skrill). 
It must be mentioned that all withdrawals need to be reviewed by Bwin first before processing. This internal review usually takes one business day, but can stretch into two during peak volume. Once approved, funds are free to be distributed back to the player.  
Does Bwin Accept Bitcoin or Other Cryptocurrencies?
In a bit of a surprise, Bwin has not jumped on the crypto bandwagon — not yet, at least. 
However, we wouldn't be surprised if that changes down the line. Bitcoin and other cryptos is a rising trend through the betting marketplace, and for good reason, too.
The benefits of using it to transfer money in and out of online betting sites are enormous. Transactions are more secure, quicker to process, and free of transaction fees, by and large. 
If Bwin inevitably does begin accepting cryptocurrency, it will surely advertise it. Perhaps they'll even create a bonus tied to depositing with crypto like many competitors have.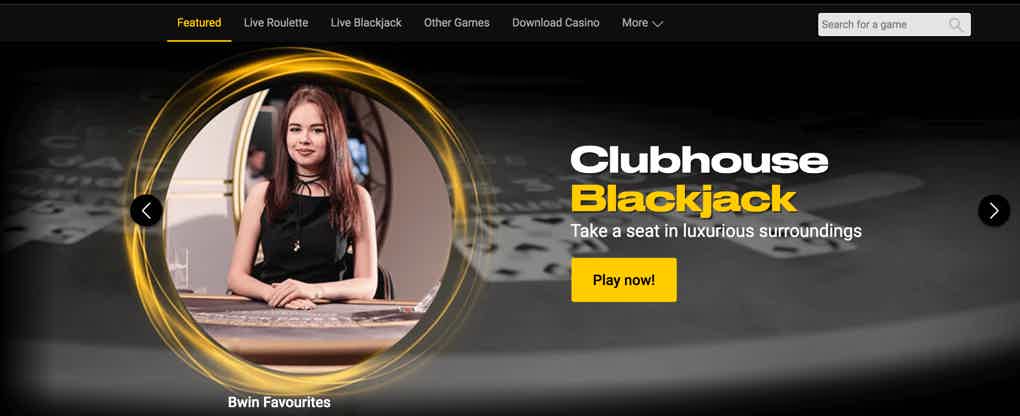 Are There New Player Bonuses On Bwin? 
In another surprise move, Bwin is currently not running any sign-up bonuses for new players. Most books dangle free-play money for first-time players upon making a first deposit, but not Bwin.
Instead, Bwin bonus codes mostly center on existing players. Bwin rewards loyal users with deposit bonuses, free play (on losses), and more. It's obvious Bwin is big on retention of players. 
That concludes it for our Bwin com review. As you can tell, Bwin isn't your typical betting site — and that's a compliment, not a slight.
While the Bwin sportsbook is not offering any bonus for new players, the Bwin casino is giving away up to $200 in free bets. Terms and conditions apply.