Sportsbetting.ag Review
What's in it for you?
Multiple bonus offers available
No shortage of deposit methods
Global sports betting primary focus
To put it lightly, Sportsbetting ag doesn't play any games — in the figurative sense, of course. Speaking literally, there's one betting game after another on the betting site. Sportsbook, traditional or live casino, poker room, racebook — it's all there to create a betting haven.
Even better, Sportsbettingonline ag has some of the best betting site offers around. Everyone has initial deposit bonuses, but how many books have risk-free, no-deposit free bets? Finding one is difficult, little less multiple like what Sportsbetting ag offers.
Our Sportsbetting ag review will cover all that, plus so much more. Like we said, Sportsbetting ag is serious about this betting thing!
Our Sportsbetting rating
Bonuses

9.5/10

Deposit Methods

9/10

Payout Methods

9/10

Betting Lines

8.5/10

Website Review

8.5/10

Casino Review

9.5/10
Multiple bonus offers available
No shortage of deposit methods
Global sports betting primary focus
Casino graphics could be better
Sportsbetting Sign-Up Bonus
GIMME THIS BONUS! - Earn a 50 percent match worth as much as $1,000 on your first deposit! Now that's serious money.
sign up & bet now
Sportsbetting Ag Mobile Site Review
The days of downloading a native app to your iPhone or Android device to bet on the go have seemingly passed. Instead of that, most betting sites — including Sportsbetting ag — have opted for mobile-optimized websites that accomplish the same exact thing without taking up any extra space on your device.
Essentially what mobile optimized means is that a website will reformat itself automatically to fit the screen size of your phone or tablet. Aside from consolidating a few menu and navigation buttons, the mobile experience rivals desktop to a tee.
At least that's certainly the case on mobile Sportsbetting ag. Accessing the site from a mobile web browser takes you straight to the mobile Sportsbetting experience, which is a mirror image of the full desktop site.
There's no dropoff in features whatsoever when accessing mobile Sportsbettingonline ag. None! Sign in per normal to your account and you can bet freely on any game, including live lines. Depositing and withdrawing money goes through the same process as desktop, too. 
However, it's not just the sportsbook that you can take with you in your pocket. The casino and poker room can also be accessed straight from mobile. The only game off-limits is live dealer games, but that could change down the line as technology continues to progress.   
The convenience of Sportsbettingonline ag mobile is really what makes everything a worthwhile experience. Thanks to it, you can now bet anytime and anywhere you want. It makes betting a 24/7/365 thing— it goes without saying that players need to be responsible with that luxury.
Overall, the mobile Sportsbetting ag reviews are favorable, not only in our eyes but also based on other customer reviews found throughout the Internet.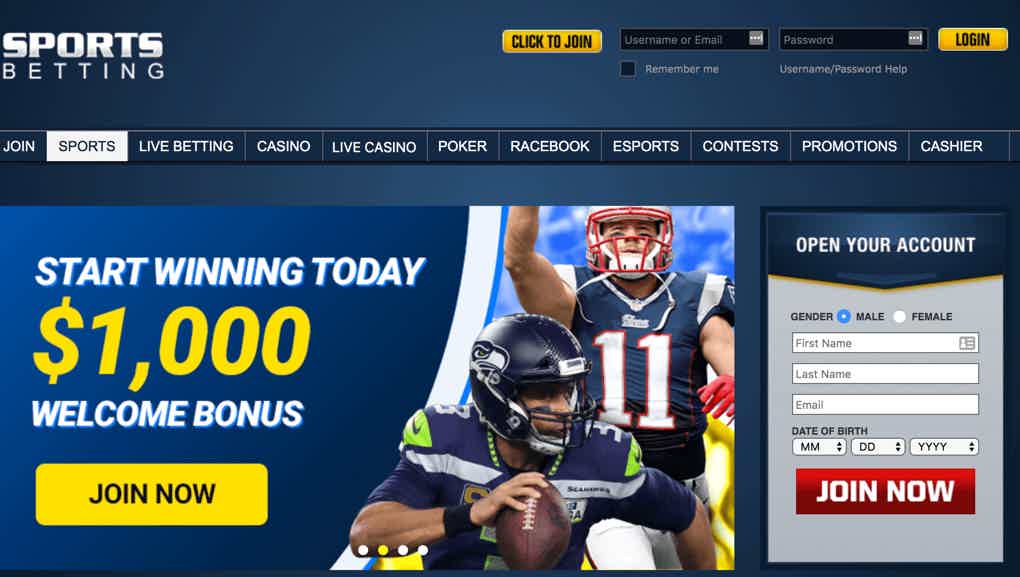 Sportsbetting Ag Poker Review
Let's shift our focus to the Sportsbetting ag poker review. Your login credentials will work across all Sportsbetting ag platforms so no need to re-register just to join a poker room.
There's a ton of game variants inside the Sportsbetting ag poker room. You'll find the usual suspects here — hold 'em (both limit and no limit), 7-card stud, Omaha, Americana, and 32 card draw. The minimum and maximum stakes will vary slightly between the variants.
Multiple leaderboards are available for players to rank up through. Beyond bragging rights, cash prizes are at stake in these standings. It's not a winner-take-all system, either, meaning prizes are split up among top performers. 
Moreover, the poker room isn't just for use on desktop. Games can be played straight from your tablet or mobile device. On-site, you'll find a QR code that you can scan from an Android- or iOS-supported device to be taken straight to the mobile playing experience.
If you're on the fence about playing poker, then let the Sportsbetting Ag poker bonus convince you to give it a go. They'll match your first deposit into the platform dollar-for-dollar up to $1,000. If you're playing partially for free, why not test your luck? 
Live Betting On Sportsbetting Ag 
Unless you've been living under a rock, you've probably heard of live or in-play betting by now. It's no longer just a rising trend in sports betting, it's now the thing to do — wager on games as they're happening in real time.  
Sportsbetting ag has a fully-functional live betting feature inside its sportsbook, accessible on both desktop and mobile. As play by play unfolds, odds update quickly to follow all the action. In our experience, we had zero hiccups with the timing of the feature.
Nowadays, it's not uncommon for a sportsbook to have a live betting option. However, where some sites comes up short is in the amount of games and leagues available to in-play bet on. Sportsbetting ag is not one of those sites, however.
Here, live betting is available on the big four American sports leagues — NFL, NBA, MLB, and NHL. Moreover, college sports and international soccer also have live play support. Between that, you should be covered on most major sporting events. 
Like the poker room, there's a bonus to entice newbies to try the live betting feature. At Sportsbetting ag, you can earn a risk-free $25 free bet on your first live wager. Take it from us, never turn down a no-deposit free bet. Ever!

Give The Sportsbetting Ag Casino A Spin
We've talked about the sportsbook and poker room, now on to Sportsbetting ag casino. There's actually two — a traditional one and live casino. We'll begin with the former.
The casino is packed with games, and when we say packed, we mean it. Tables games, slots, video poker, you name it, Sportsbetting ag probably offers it. Between all, there are over 150 different casino games to play.
The casino is more top-heavy with slots than any other game. Getting even more specific, you'll see the most 3D slots — far more than video or three-reel slots. With that said, the 3D machines rival those found in Las Vegas themselves.
The table game selection is more condensed but the popular ones are there for the taking. Players will probably gravitate toward blackjack, craps, and roulette. Each of those games has multiple variants available in case you need to spice things up. 
Speaking of spicing things up, if you get tired of playing simulated casino games, you can move on to the  Sportsbetting ag live casino — where the thrill is a little higher.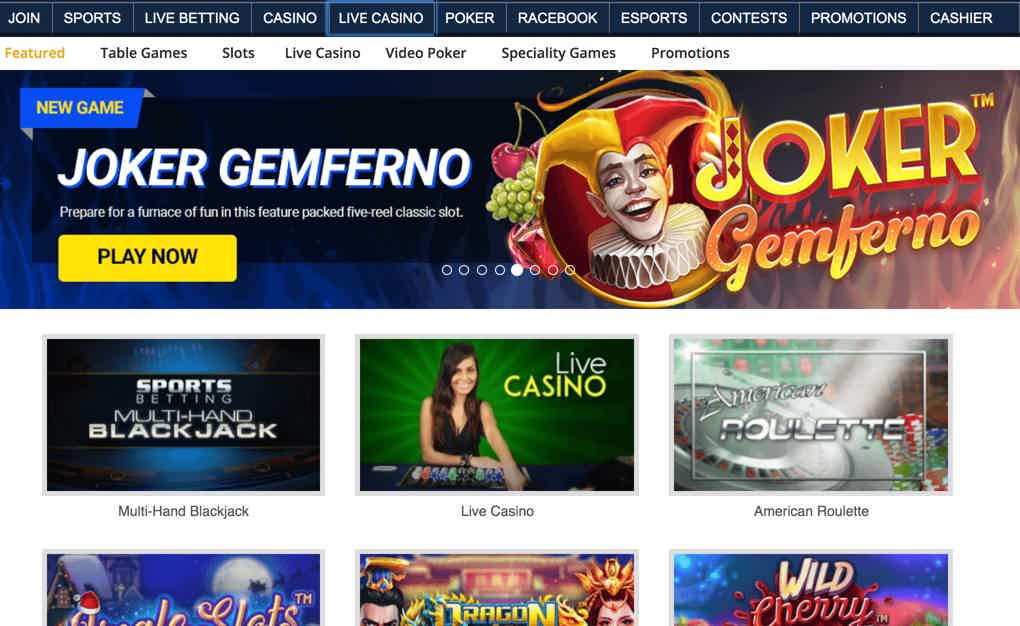 Up The Stakes In The Sportsbetting Ag Live Casino
"What exactly is a live casino?" you may be thinking. Similar to live sports betting, this feature has become commonplace on betting sites. Instead of playing against a computerized dealer, the one inside a live casino is the real thing — you know, a person, streaming over a webcast (both male and female dealers available). 
Admittedly, your game selection is very limited here. However, the top games are represented — blackjack, baccarat, and roulette. 
Playing live dealer games is a great way to break the monotony of online casinos. Something about human-to-human contact just makes gambling more enjoyable (unless you're introverted).  
Sportsbetting Ag Payout Review
Let's finish up with a Sportsbetting ag payout review. Akin to depositing money, there's a number of Sportsbetting ag withdrawal options. 
Matter of fact, you'll see overlap between the two. For cashing out, you can choose between a bank transfer, check delivered to your doorstep, and cryptocurrency like Sportsbetting ag Bitcoin, among others. 
Payout times will vary between the choices. The fastest is definitely crypto (almost instantaneous), while a check is the slowest (depending on your location, it can take close to two weeks).
Using Bitcoin And Others Cryptos At Sportsbetting Ag
Currently, Sportsbetting ag accepts five different cryptos as a payment option — Bitcoin, BitcoinCash, Ethereum, Litecoin, and Ripple. Each of the five can be used to either insert or withdraw money from the betting site.
All five have the exact same limits, too. When depositing money, the minimum is $20, while the max that can be inserted hikes up to a whopping $100,000! The same amounts also apply when cashing out. 
Moreover, all five cryptos have zero processing fees on Sportsbetting ag. That, plus its faster transfer speeds and enhanced privacy, make digital currency a superb option for transferring money through the site. 
Is Sportsbetting Ag Safe?
Let's be honest, online betting doesn't exactly have the best reputation around. We can debate whether that's fair or not all day, but the fact is many users fear being scammed out of money from Internet gambling sites.
Knowing that, can Sportsbetting ag be trusted with your hard-earned money? From our own experience, the definitive answer is yes they most certainly can. 
If you don't believe us, just search Sportsbetting ag customer reviews online for yourself. You'll be hard-pressed to find negative ones, much less ones that accuse the site of fraudulent behavior. Information — whether good or bad — spreads fast in today's digital age and you'd know from a quick Google search if Sportsbetting ag was up to no good, which they're not. 
To put a bow on this entire review, we truly believe Sportsbetting ag is one of the best sports betting sites around for all the points already mentioned — loads of user-friendly features, great bonuses, and a trust factor. Bettors can rest easy knowing their money is in good hands at Sportsbetting ag.