Sportsbook.ag Review
What's in it for you?
Extensive betting menu
Multiple bonus offers
Legal in most of US
In one form or another, the Sportsbook betting platform has existed since 1996 — back when online betting was barely a thing. It rose to prominence early on before a slew of lawsuits from various US states slowed its growth and forced it to drop .com from its domain in favor of .ag. 
That's how things presently stand today at Sportsbook ag. It's alive and kicking, but not free from controversy by any means. Instead of facing heat from US legislature like Unlawful Internet Gambling Act, the site's current-day issues stem from a less-than-stellar reputation from players.
Over the course of this Sportsbook ag review, we'll cover those issues, plus everything else the betting site has to offer. Since we have no dog in this fight — besides finding bettors the best online betting site offers — all info is presented bias-free!  
Our Sportsbook rating
Bonuses

8/10

Deposit Methods

8/10

Payout Methods

8/10

Betting Lines

9.5/10

Website Review

7/10

Casino Review

7.5/10
How To Deposit Money Into Sportsbook.Ag
If you hail from the United States or Canada, you have two deposit options at Sportsbook ag — credit/debit card or Bitcoin. That's it. The lack of possibilities certainly brings down our ag review. 
However, at least both options are convenient to use. The betting site currently only accepts VISA and Mastercard, which is the industry norm. Moreover, at Sportsbook ag, Bitcoin only is supported when it comes to cryptocurrencies.
The two deposit methods are free-of-cost, and funds should hit your account almost instantaneously. Though, they will differ when it comes to depositing limits.
With a max deposit of a cool $10,000, Bitcoin can cover the recreational bettor to the high roller and every other player in-between. The card is a little more restrictive, however. Sportsbook ag allows three separate deposits of $1,000 max, so a top limit of $3,000 for the whole day.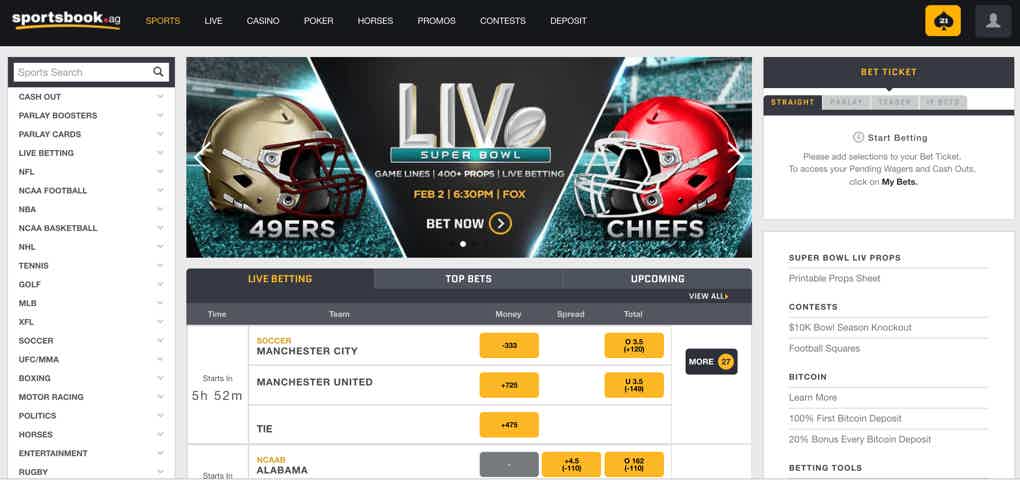 How To Withdraw Money From Sportsbook.Ag
We're not going to mince words, and our Sportsbook ag withdrawal review is not good. Not good at all. 
Once again, options are limited in this department. Presently, the betting only allows cashouts via Bitcoin, check, and wire transfer. But the lack of variety isn't the worst part.
Instead, it's the high transaction fees associated with cashing out. While you get one free cashout per each method a calendar year, and after that will be hit with a three-percent surcharge based on the withdrawn amount. 
To be candid, that's absurd. At many competing sites, players get one free cashout per month, not an entire year like Sportsbook ag. Moreover, Bitcoin cashouts are entirely free at most betting sites, but again, the same doesn't apply here. 
Making matters only worse is Sports ag restrictive withdrawal limits. The max that can be cashed out on checks and Bitcoin is a measly $2,500, while bank wire is $5,000. The Bitcoin cap is especially laughable considering Sportsbook ag allows a max deposit of $10,000 using the same method, not a fair tradeoff whatsoever. 
User Complaints About Pay Out Time
A quick Google search of Sportsbook ag reveals a disturbing trend — the betting site has a long history of slow payout times, according to many disgruntled players. Unfavorable customer reviews, both old and new, aren't hard to find online about the site.
This should be a deal-breaker issue for would-be bettors. No player should have to wait for months to receive the money they've rightfully won. 
Perhaps it's smart to look elsewhere to get your online gambling fix. There's a host of reputable sportsbooks online without the unneeded baggage that Sportsbook ag carries.  
If you do want to try your luck at Sportsbook ag, we advise extreme caution. Don't deposit a lot of money into the site off the bat. Request a few cashouts, and if you do happen to get paid out in a timely manner, then perhaps up your bankroll slightly — but only in this scenario.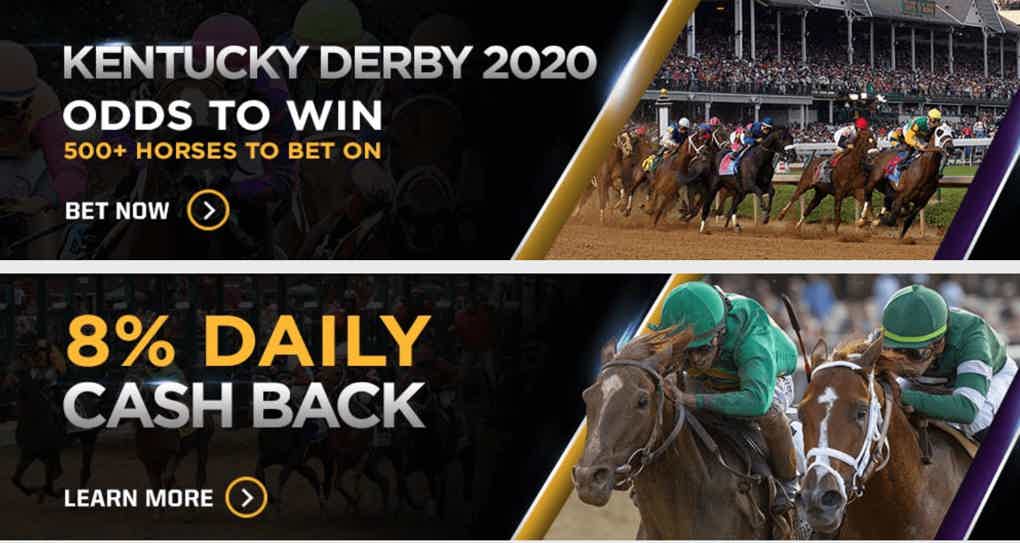 Sports Betting Ag Review
Now let's get to the good stuff — the sports betting ag review! After all, wagering on sports is what every bettor comes to the site to do.
This department is where Sportsbook ag redeems itself slightly. It's betting menu is massive in more ways than one.
For starters, a large number of sports are covered when it comes to betting lines. This ranges between both US-based sports and international ones. Football, soccer, basketball, baseball, combat sports, rugby — you name it, Sportsbook ag probably has it available in multiple leagues.
Thoroughbred racing fans, you're welcomed at Sportsbetting ag, as well. Beyond just the famed Triple Crown events, the racebook also carries races across America, Australia, Canada, and the UK. 
A large selection applies to bet types, too. By now, you should expect the usual moneyline, spread, and over/under lines from any betting site. But it's in the props or live betting where online sportsbooks can differentiate themselves from the competition. Sportsbook ag does just that with a plethora of odds.  
On any given day, you'll find hundreds of different bets available on Sportsbook ag com. And thanks to a clean user interface, it's painless to find the one you're looking for. The left-hand menu of the website breaks up all the betting options in an intuitive way.  
Sportsbook Ag Casino Review
Despite the domain name, there is, in fact, more than just sports betting at Sportsbook ag. The site also carries a full-service casino and poker room.
Akin to the sportsbook, the left-hand navigation menu has all the site's casino options neatly labeled. Included there are blackjack, keno/lotto, slots, video poker, among others. All in all, you have a little over 100 casino gaming options to choose from.
As you'd come to expect from any online casino, slots take precedent at Sportsbook ag. The amount of slot games on-site far outweighs the rest. Game variations include the classic three-slot, jackpot, and a multitude of line slots. 
The casino is powered via BetSoft software and can be run on desktop and mobile, alike. We had little issues running the games and experienced little to no lag. Game graphics are good, but not great. 
For fans of live dealer games — where actual humans deal cards via a web stream —, you won't find them at Sportsbook ag. The simulated table games on the site are reliable but are certainly missing that real-life thrill that comes with a live dealer. 
As for the poker room, it was a mostly forgettable experience at Sportsbook ag. It suffered from a lack of player traffick when we tried, which is a problem not just unique to Superbook ag, but many online poker rooms. 
The site offers a litany of poker hold-em variations, including the ever-popular no-limit, fixed, pot-limit, and limit Omaha hi-lo. We found no complaints about the software itself. But again, without a good volume of players, the games just felt flat.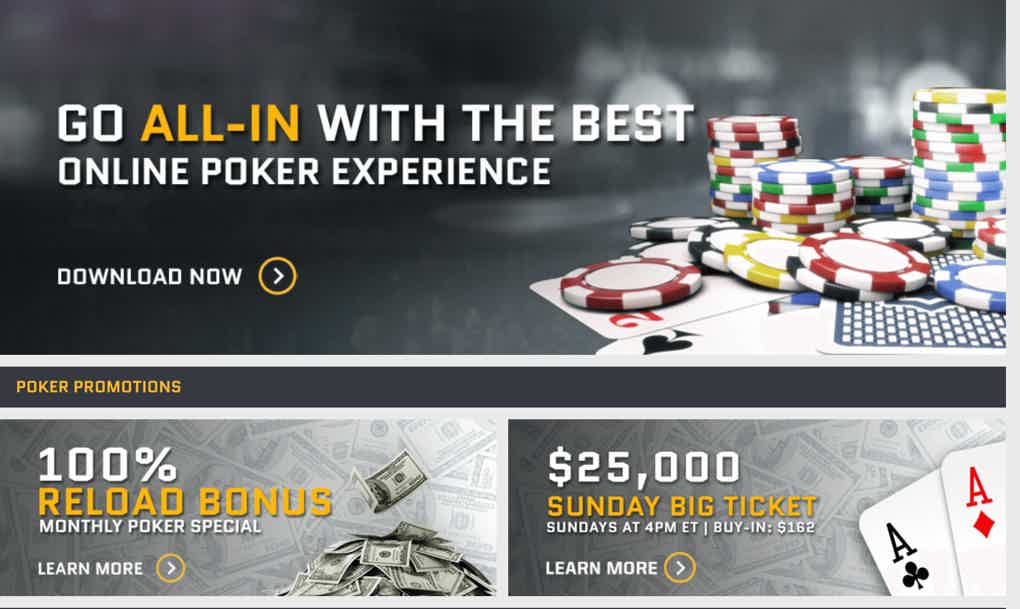 Sportsbook Ag Final Verdict
You can probably tell by now, but we're not very impressed with Sportsbook ag. You'd think an establishment that's existed for decades would have it figured out by now, but that's not the case here.
While the site's lengthy betting options are good, they aren't good enough to make up for its sketchy reputation and extremely limited banking options. In today's online betting climate, there's no reason bettors should put up with those two pain points.
We can't recommend Sportsbook.ag — especially when so much better options exist online today.