The 2021 edition marks a return to the norm for the eat-off. It's back in Coney Island in front of a rowdy crowd — not an indoor, invite-only setting like last year's event due to the pandemic.
Fans or no fans, nothing stopped Chestnut from breaking his own world record for hot dogs and buns consumed a year ago. Chestnut downed 75 in the 10-minute span — that's 1.25 dogs every 10 seconds! That was his 13th victory in 14 tries since 2007. Therefore, any betting talk about the next competition HAS to start with the reigning, undisputed champion!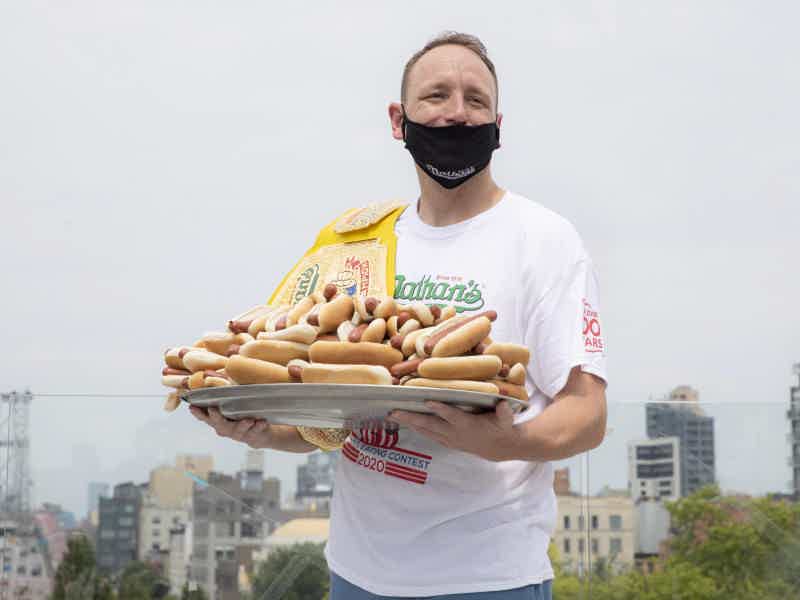 Joey Chestnut Vs. The Field
Online bookmakers have been slow to release betting lines for the upcoming competition. But make no mistake about it, once posted, Chestnut will be the overwhelming favorite to win again. In 2020, Chestnut topped out at -1000 to win right before the event started.  
Expect a similarly lopsided line for Chestnut in 2021, which obviously doesn't offer a lot of betting value for you. But that begs the question, is it may be worthwhile to bet "the field" in case the unthinkable happens and Chestnut is upset? 
Simple answer: no, it's not worthwhile. You see, there's a giant gap between Chestnut and the next-best eater. During Chestnuts' record-setting performance last year, he ate 33 more dogs than the runner-up!
Among the field expected to show up in Coney Island this time around, the only eaters that have come remotely close to Chestnut's record are Carmen Cincotti and Matt Stonie. Their previous best marks in this competition are 64 and 62 dogs, respectively. Still, that's double-digit figures behind Chestnut's peak. 
Our advice is to save your money and skip this Chestnut-versus-the-field bet altogether. While we do expect Chestnut to cruise to victory, betting on him around the -1000 range is a very high-stake, low-reward play and that's never a smart scenario to be in. Don't worry though, there are other ways to get action on this competition!
Over Or Under 73.5 Hot Dogs For Chestnut
You want betting value, here you go! Courtesy of BetOnline, there's an over/under on Chestnut's finishing dog total:
It's worth examining Chestnut's hot-dog-eating history. He's now 37 years old — an age where most people's metabolism starts dialing it back. However, that doesn't seem to apply to Chestnut. Not one bit.
Since his first outright win in 2007, Chestnut routinely one-ups himself. Here's a year-by-year look at how much he's stomached each time since then (in chronological order): 66, 59, 68, 54, 62, 68, 69, 61, 60, 70, 72, 74, 71, and 75. So he's had eight competitions where he improved from the previous year's effort, whereas he regressed on five separate occasions.
So historically speaking, Chestnut has improved his eating total the following year 61.5 percent of the time! We're banking he does it again in 2021. And even if he doesn't, with an over/under at 73.5 hot dogs, you have some breathing room. We do believe the return of a live, frenzied crowd will spark Chestnut to ANOTHER record-shattering performance! 
How To Watch The Nathan's Famous Hot Dog Eating Contest 2021
We don't want to say this eating competition is a "must watch" but honestly, you're only doing yourself a disservice by not tuning in live. The ten minutes the competition lasts breezes by in a hurry. For some, that's because the event is like a trainwreck you can't quite look away from, but for others, that's because it grosses them out and they browse their phones instead.
No matter which camp you fall into — we don't judge either way — here's how you can watch the trainwreck unfold at the moment:
What day is the competition? July 4, 2021 (duh!)
What time is the women's event? 11 am EST
What time is the men's event? 12:30 pm EST
If you've read this far then you have everything you need to drop a wager on the event — may be except a sportsbook. You see, most land-based casinos in the United States don't carry betting lines for the competition, but online betting sites sure do.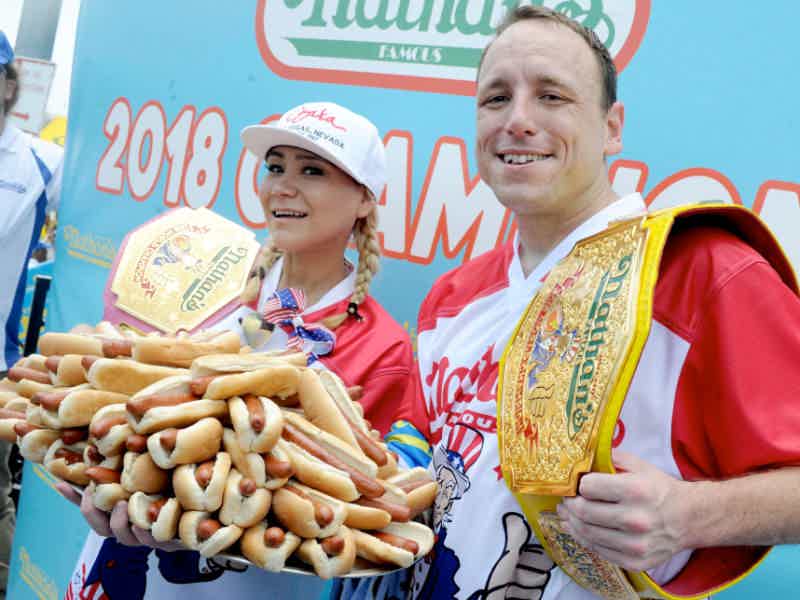 The sportsbooks listed underneath are among the best on the Internet. Not only for offering great betting prices on eating contests and every other sport under the sun but because they offer huge sign-up bonuses that reward thousands of dollars in free play! 
Don't believe us? Look at the below table. See that dollar figure right next to the yellow "play now" button? That's the max bonus offered at the respective site. As you can see, bonuses hover between $1000 and $2500, which is no chump change. 
Bonuses are redeemed upon creating a playing account and depositing money into it. This simple two-step process can be completed in the same span it takes Chestnut to guzzle down 40 hot dogs (five minutes or so)! How easy is that, huh? Don't miss your chance to rack up free money just in time for the hot dog-eating contest!