To no one's surprise, the reigning champion Dodgers are the current betting favorites, per online sportsbooks. The list below has current betting lines for them, plus other front-runners:
Whereas the best team usually wins out in the NFL or NBA playoffs, the MLB postseason is more notorious for being a crapshoot. To safeguard you against that very unpredictability, you shouldn't just bet on only one team when World Series futures betting. No, more like three.
That's our exact approach here. And given how steep the betting lines are anyway, that's perfectly fine. Just hitting on one pick will be profitable enough. Welp, these three teams below give us the most betting confidence right now:
Los Angeles Dodgers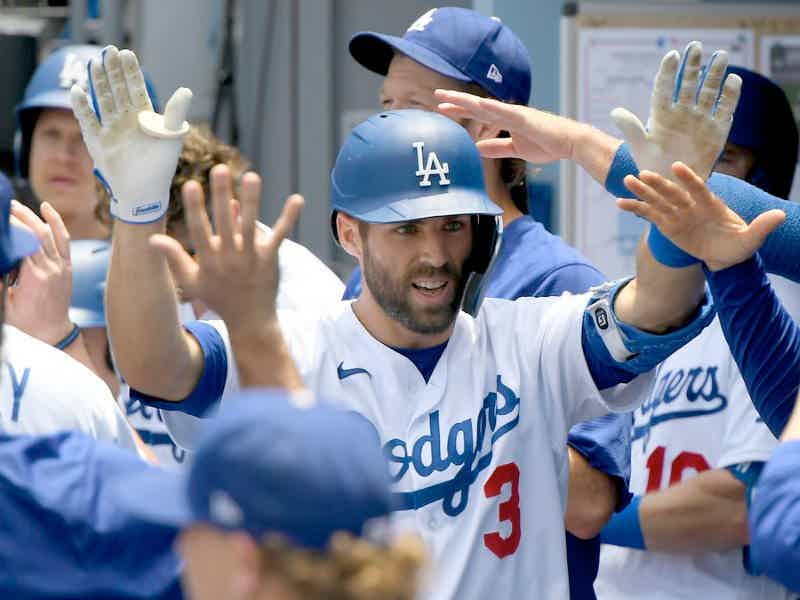 The Dodgers have been a no-brainer bet in this category for about five years straight now. That remains the case in 2021 (and for the foreseeable future). 
You know the deal by now: LA is the most talented team in baseball. By a longshot. They've used those riches to amass the second-most wins in baseball so far (only one game behind bitter rival San Francisco). A feat made all the more impressive given they hit a rough patch earlier this season when they went 5-15. 
The biggest threat to the Dodgers might be themselves. This team just can't stay healthy. Its pitching has been especially decimated. Ace Clayton Kershaw is on injured reserve currently. Dustin May is done for the year thanks to Tommy John's surgery. And while not an injury, it seems like Trevor Bauer will not be returning to the rotation given the steep allegations against him.  
A fully healthy Dodgers team is the runaway favorite to repeat as champions. However, given their laundry list of injuries, the door may be open for our next two betting picks to steal the crown.
San Diego Padres
Days remain before the MLB trade deadline closes on July 31, but the Padres are already early winners. San Diego just dealt for All-Star second baseman Adam Frazier (in exchange for a few prospects so no immediate loss either). He's a high-contact hitter that instantly upgrades its already vaunted lineup. 
But the thing is, San Diego might not be done wheeling and dealing. One-time Dodger front office staffer and now Padres general manager AJ Preller is one of the most aggressive execs in baseball. He used the LA playbook to acquire studs like Jake Croneworth, Yu Darvish, Fernando Tatis Jr., Blake Snell, and plenty more. Do you think he can't cut another deal to keep pace with the Dodgers in the title race?
Yeah, we're not betting against Preller or the Padres in general. This roster is also stacked, and unlike the Dodgers, its starting staff isn't reeling at the moment. After all, we all know October baseball starts and ends with pitching. San Diego is the perfect insurance bet in case the Dodgers remain injury-prone or just lose their hunger after finally winning a ring. 
Houston Astros
Alright, after two betting picks from the National League, we had to pick one from the American League. Out of the wide-open group, we're hitching our wagon to the Astros.
Hate 'em or love 'em, Houston has shown their true colors the past two seasons post-Trashgate. This team is still well-rounded in all three phases of the game, evident by their 61 wins (tied for most in the American League). Not only that, but with four straight trips to the ALCS, they have the big-game experience that its conference competitors (White Sox and Rays) don't.  
Like the Padres, the Astros will also be buyers at the trade deadline. It could add an extra arm in the starting lineup. In case it doesn't, they haven't ruled out a late-season return from the always-clutch Justin Verlander. Houston has options and that's always a good betting predicament to latch yourself onto as we're doing here. 
If you're looking to tail or fade our World Series betting picks, you can do so at one of the betting sites underneath. You'll find all relevant MLB odds at these bookmakers, whether that's on futures wagers or just the day-to-day games. 
But there's one more thing you can get at these betting sites and that's huge promotions. These deals are available both to new (sign-up bonuses) or returning players (reload bonuses). With either offer, players stand to gain hundreds, if not thousands, of dollars in free play! 
Don't believe us? Take a peek at the table below. See that dollar figure right next to the yellow "Play Now" button? That's how much you can claim at the betting sites right now if you're a new player. To claim your sign-up bonus right away, click one of the links below!