TopBet Review
For better or worse, online betting has garnered a negative reputation for shoddy business practices in some circles. If you read through our website, you know we don't share that same sentiment. More than enough trustworthy betting sites populate the Internet.  
Unfortunately, bad apples do exist, and it's these outliers that have given a black eye to the entire industry. Since the rise of online gambling, TopBet has been one of the most notorious bad apples.
Fast-forward to today, has TopBet finally changed its ways? Is this betting site worth your time? What are the pros and cons of using Top Bet? We set out to answer those all-important questions during this TopBet review.
Our TopBet rating
Bonuses

5/10

Deposit Methods

8.5/10

Payout Methods

5.5/10

Betting Lines

8/10

Website Review

6/10

Casino Review

9.5/10
TopBet Signup Bonus
GIMME THIS BONUS! - All betting account reloads are matched at 10 percent and applied automatically!
Sign Up & Bet Now
TopBet Sportsbook Review
A quick glance at the TopBet eu sportsbook and it becomes evidently clear that US sports are its primary focus. The number of bets available for the "Big Four" American sports leagues — the NFL, NBA, MLB, and NHL — is staggering. 
Not that there isn't betting for other sports available. You'll also see a good mix of international soccer lines, as well.
However, the disparity between a US-based sports and say, English Premier League, becomes evidently clear when it comes to futures and prop bets offered. From our experience, there was a massive list of wagers for this in the NFL and less so on soccer.    
Beyond this, TopBet is also only available in English. The U.S. dollar is the only form of currency it takes and pays out. Given all this information, it's obvious TopBet is catering to an American crowd.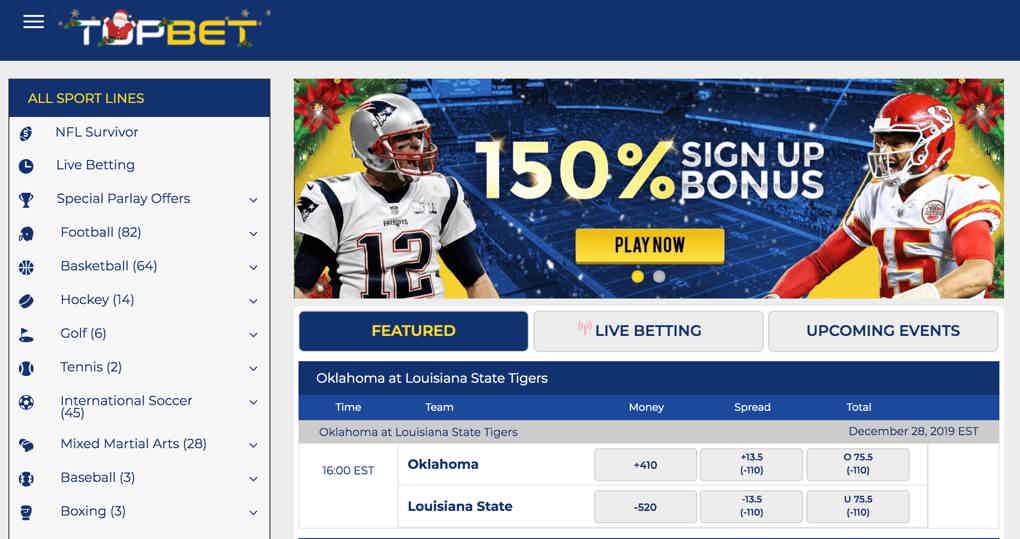 TopBet Casino Review
Outside of the sportsbook, TopBet also offers a full-service casino. Seriously, the game offering is massive and not unlike something you'd see in-person down in Las Vegas.
There are one-hundred-plus games to play inside the TopBet casino. In here, there's a little something for everyone — 3D games, slots, video poker, and table games.
As with most betting sites, they are top-heavy with 3D games and slot machines. You'll find more of these than any other game type inside TopBet. 
Classic casino staples like blackjack, craps, roulette, and baccarat will be found in the table game section. Better yet, there are multiple variations of these tables games in case players need to spice things up.
Lastly, TopBet offers about a dozen different video poker machines. Classic options like Jacks or Better, Deuces Wild, and more are there for the picking.  
All in all, there are more than enough options inside the TopBet casino to keep players busy for a long period of time. The software behind the games runs smoothly (as long as your computer isn't ancient) so there's little to no lag when gaming.  
Getting Set Up On TopBet
Whether you're accessing TopBet com through a desktop or mobile device, the account sign-up process is the exact same. Click through the website and the main menu will follow you throughout. On that menu, you'll see a big "Join Now" button.
Clicking that CTA does exactly as you'd expect — take you straight to the account set-up page. Simply input your basic user info such as name, email, password, date of birth, etc. This should take only minutes then you're officially a user on TopBet. 
Creating a profile is completely free of cost. But of course, betting isn't free — and no, there is no TopBet free bet bonus in case you're wondering. To actually start wagering, you'll need to add funds to your account, which is simple enough to do. 
How To Deposit Money Into TopBet
The two most popular methods for depositing money into the site are card and bank wire.
When it comes to debit or credit card, TopBet only accepts VISA and Mastercard. You'll be docked no fees when depositing through debit, but expect a small hit when using credit. This fee isn't from TopBet directly, bur rather your issuing card provider, as it'll process the transfer as a cash advance. Your betting account should be credit pretty quick from using this method. 
Bank wires aren't nearly as quick, however. It can take two to three business days for a bank wire to fully clear. There is a slight workaround, though. If you submit a receipt to TopBet, they'll credit half of that deposit right away (the other half won't be credited until the wire goes through).  
As mentioned before, TopBet operates with US currency. However, that doesn't mean outside currencies won't work. They will, however, users will have to pay the currency conversion fee. 
If the thought of paying any sort of transaction fee — whether that be on credit cards, currency exchange, or something else — sounds awful to you, we have a solution: cryptocurrency, which we'll cover next.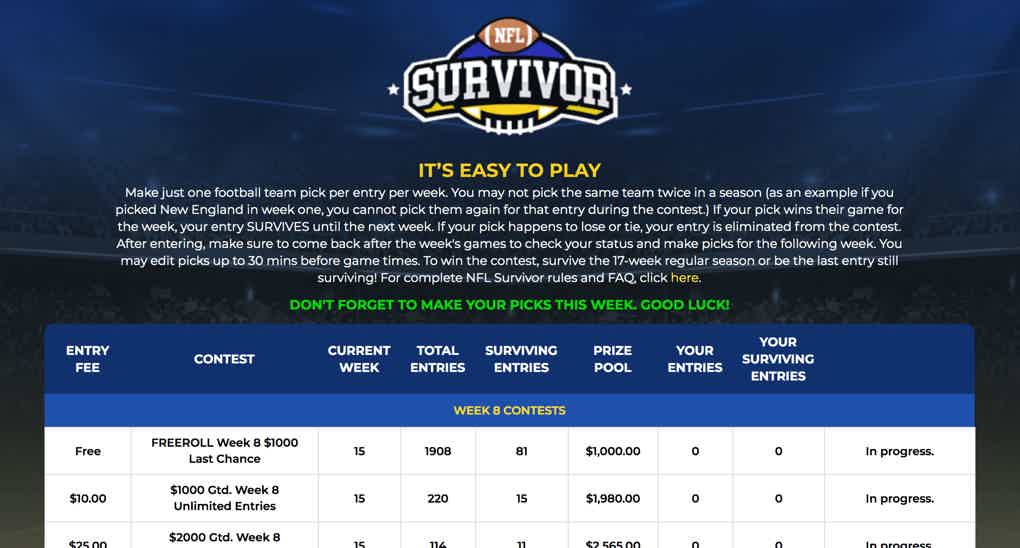 Is Bitcoin or Another Cryptocurrency Accepted at TopBet?
TopBet has joined the growing list of betting sites that accept cryptocurrency. The site's embrace of the platform is very evident by how many cryptos are supported on TopBet.
By our count, there are over 20 cryptocurrencies that TopBet presently allows. That support list includes big names like Bitcoin, Bitcoin Cash, Ethereum, and Ripple. But it also features less-known digital currencies like CloakCoin, Fuel Token, and Verge, among many others.   
Unfortunately, TopBet's support of crypto only goes one way. The method can't be used to withdraw money presently. This missing feature, which feels pretty straight forward, feels like a huge miss on TopBet's behalf. Compared to other crypto-supporting betting platforms, TopBet is alone in this lack of functionality.
Plus, given TopBet's not-so-good history for appropriately paying out players, the lack of crypto payout is especially worrisome. They do state openly at "looking into supporting full Bitcoin payout functionality in the near future." However, until its officially implemented, we're bringing our TopBet payout reviews down a notch.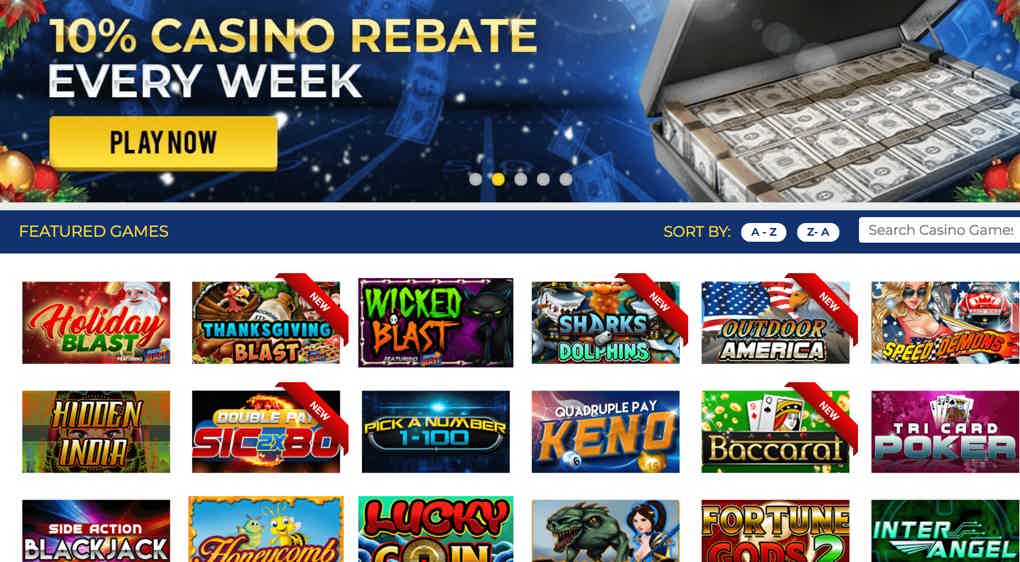 How To Withdraw Money on TopBet
So if you can't withdraw with crypto, what are your available options? Check by courier — that's it.
Only having one option really hurts TopBet here. Making matters worse, checks are by far the slowest payout method. Depending on where exactly you live, you could be waiting up to two weeks before receiving winnings in the mail. 
The max amount of money that can be cashed out weekly is $2,500. Transaction fees will cost you $40 a pop, too.
Of course, the elephant in the room here is whether you'll actually receive your winnings or not in a timely fashion. As mentioned, that's been the biggest knock on TopBet over the years. We'd love to give you a straight answer here, but there's really no telling with TopBet. 
We'll bring our TopBet review to a close but repeating our earlier advice: if you must wager on TopBet, proceed with caution. Deposit in bits and pieces and keep track of payout times. It's on TopBet to gain back your trust, not the other way around. 
Stay away
We do NOT recommend TopBet
-