JustBet Review
What's in it for you?
Sign-up bonus worth up to $1,600
Strong sports betting presence
Great loyalty program
What's not to love about the JustBet name? It's reminiscent of Nike's world-famous "Just Do It" slogan — only this one laser-focused for bettors. 
So should bettors "just bet" on JustBet sportsbook?
All puns aside, that's the golden question we're about to answer over the course of this JustBet review.
This review will cover anything and everything relating to betting on JustBet including its sportsbook, casino, creating an account, payment methods, online betting site offers, and much more. By the end of this review, you'll know where JustBet com is right for you or not!
Remember that SportsBookBonus reviews constantly the best online betting sites available to Americans.
Our Justbet rating
Bonuses

9/10

Deposit Methods

9/10

Payout Methods

8.5/10

Betting Lines

8.5/10

Website Review

8/10

Casino

7.5/10
Sign-up bonus worth up to $1,600
Strong sports betting presence
Great loyalty program
Site can be slow during peak times
Justbet Sign-Up Bonus
GIMME THIS BONUS! - Get started at JustBet today and the site's standard sign up bonus can be redeemed for up to $1,600 in the sportsbook and casino!
Sign Up & Bet Now
JustBet Deposit Methods
Inserting money into JustBet for betting use can be done through two manners. One, when logged in, click on "cashier" and choose a deposit method. If you prefer a human touch, deposits can also be made by calling JustBet directly. Their toll-free number is 1-855-274-8313 and a customer service agent can initiate the transfer.
As for actual deposit options, JustBet offers several that you'd come to expect from the best online sportsbook at this point — credit or debit card, bank wire, and even, cryptocurrency. 
Funds transferred through these three methods will hit your account almost instantaneously. All are free of cost, however, you might be docked a fee when using a card — not from JustBet, but by your card provider. The fees are on the lower end but will come due to payments being processed as either foreign transactions (JustBet is operated offshore) or cash advance.
JustBet joins a growing list of online sportsbooks that accept cryptocurrency as a payment method. Several different cryptos work on JustBet including the big names like Bitcoin, Litecoin, and Ethereum. Having those options is a huge plus for JustBet considering many competitors only accept Bitcoin.  
Lastly, JustBet users can also transfer money between each other. This is accomplished through a person-to-person transfer, which is fully supported on JustBet. It'll be labeled "P2" in the cashier cage.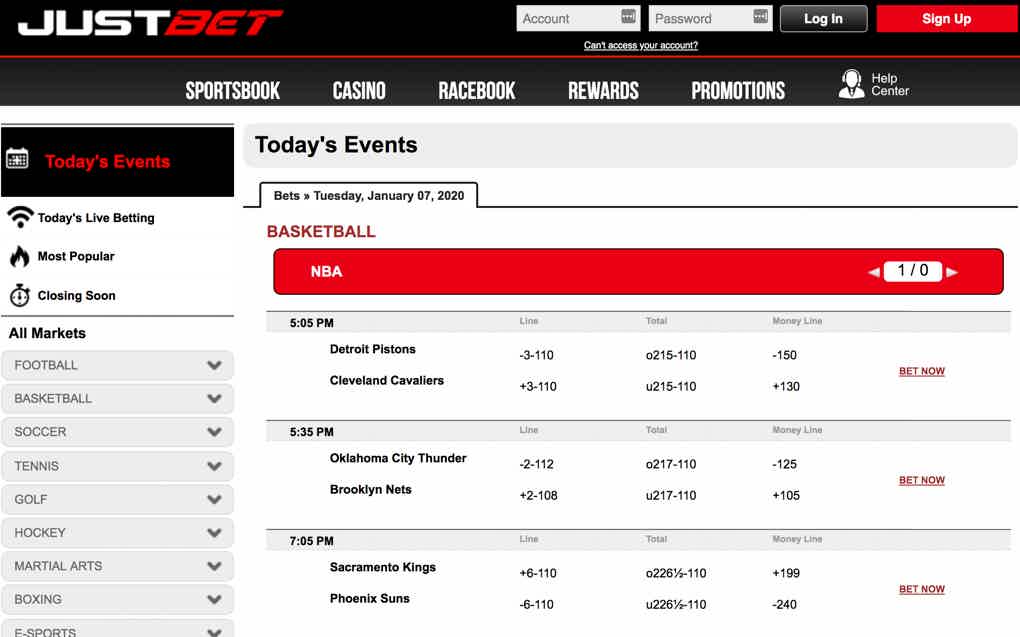 It Pays To Use Crytpo When Depositing On JustBet
By now, you're probably already familiar with the litany of benefits that comes with using cryptocurrency online — extra security, quick transfer times, and little to no transaction fees. We won't repeat that, but we'd be remiss not to mention the added bonus of using cryptocurrency as a deposit method on JustBet. 
Currently, JustBet offers not one, not two, but three separate cryptocurrencies sign-up bonuses for first-time players. Just fund your account with one of the accepted digital currencies and players can earn up to $500 in free play.
We cover that bonus and more offered by JustBet in our JustBet bonus and promotions page in case you need more details on this great deal! 
JustBet Withdrawal Methods
Like depositing, cashing out can be accomplished online in the cashier's page or by calling JustBet's customer service line. Withdrawals must go through an internal approval process from JustBet before any funds are distributed back to the player. The payment department is open on weekdays only, Monday through Friday, so act fast if the weekend is approaching.   
Many of the same deposit methods are also available for cash out including bank and cryptocurrency. The latter option is the cheapest and quickest by far.
If you're loyal to your bank, JustBet accepts both bank wires and bank drafts for payouts. Either one is great if you're looking to take out a large sum of money as both benefit from hefty max deposit limits. 
Word of caution if you used a credit card to deposit, though. Before withdrawing any of those funds or winnings, JustBet requires players to send them photocopies of both the credit card used and an ID. The names on both must match. This is mostly a security measure to guard against Internet fraud.

JustBet com Sportsbook Review
Let's move on to the good stuff now — actually betting sports on JustBet. What's the wagering experience like you ask?
If we're being completely honest, the sportsbook is very straight to the point. Some bettors will love that no-frills approach, others might want something with a little more flash. Nonetheless, it works as intended. All sports wagers are neatly categorized on the left-hand navigation menu and finding one to place a bet on is pretty intuitive.  
It's also very obvious that JustBet caters more to the American sports fan. Football and basketball — both are pro and college level — are featured heavily on its homepage and come with specific bonus offers. Once inside the sportsbook, those two sports come with a massive list of bet types.
When we say massive, we really mean it. On top of the usual spreads and over/under point totals, JustBet also has a lengthy list of props and futures available to wager on the marquee sports. Both are excellent ways to break the monotony of just checking the final score. 
While the JustBet sportsbook is definitely heavy on football and basketball, it does support many others, just not as deliberately. Still, you can find most mainstream sports here including international soccer, tennis, golf, and even eSports.   
Theoretically, bettors could use JustBet solely and not miss out on betting any other sport or matchup. It definitely has enough selection to cover bettors with a global appetite — which is no small thing. 
Last but not least, JustBet also has a live betting feature — we mean, who doesn't at this point? JustBet will post what games it will have the in-play betting feature ahead of time so you can plan accordingly.
The sheer amount of games that had in-play support surprised us. Beyond just the marquee NFL or NBA matchup, the feature was available for "obscure" sports like Japanese B.League basketball. That was just more evidence that JustBet could serve as a one-stop destination for sports bettors.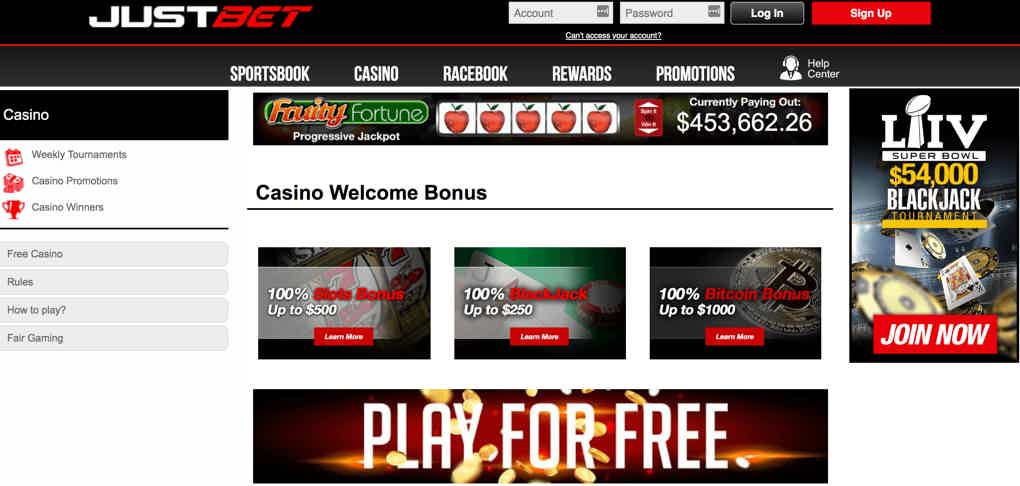 JustBet Casino Review
The JustBet casino feels like an afterthought, however, that's not a unique problem for JustBet. We get the same sensation with most online betting sites. The lure is always the sportsbook, while the casino is just an extra cash grab.
Regardless, you'll find all the bare necessities inside the JustBet casino room — slot machines (a ton of them actually), table games, card games, etc. Most are flash-based games and can run on either a desktop or a mobile device.
Inside the casino, you'll see a "free option" to play many of these games with no risk whatsoever. However, if you do crave some added stakes, money games are also available, including tournaments with steep prizes.
The JustBet casino is what it is, but the real allure of the betting site is the sportsbook, which has more pros than cons. And with that, our JustBet review comes to a halt. It's definitely worth a shot if you're in the market for a new betting platform.