Formula 1 has turned into an international sport, with the expansion of the number of races and now with almost half the races taking place outside of Europe, the home of the sport. Formula 1 betting has also grown in recent years, with many online players seeing it as one of the go-to sports to wager on each season. Sports betting for Formula 1 hasn't gone unnoticed by the best sportsbook providers, with many now offering Formula one betting odds and a broad range of F1 betting lines for customers to enjoy. The Formula 1 odds were last updated on November 16, 2023: 
Among all the motorsports betting markets, F1 gambling has become one of the most popular markets and we are seeing a rise in the number of players across the top-tier sportsbooks annually. The international stage has been a catalyst in the surge of interest in basketball worldwide.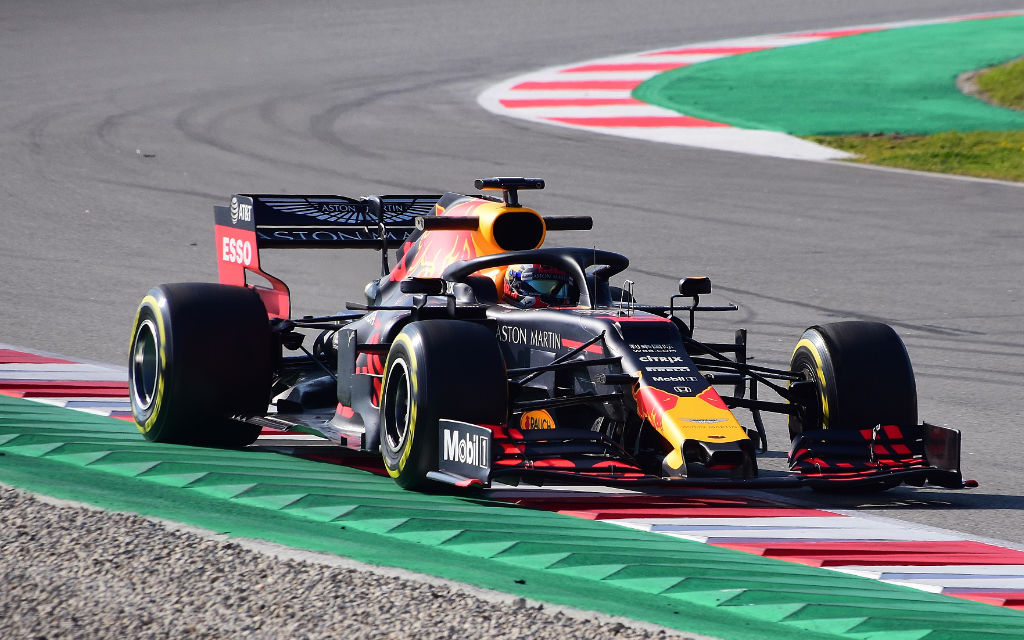 We will help to provide an analysis of the latest F1 odds and guide our readers on how to bet on Formula 1. So, if you're new to sports betting on Formula 1, you've certainly come to the right place! Throughout this guide, we'll provide you with the basics of F1 sports betting and include some of the best online sportsbooks offering competitive odds and tips!
Online Formula 1 Betting
F1 Calendar
The 2023 season will include 23 races in total, with many of those race circuits now situated outside of Europe as the sport expands its reach across the globe.
23-25 February: pre-season testing (Sakhir, Bahrain)
3-5 March: Bahrain GP (Sakhir)
17-19 March: Saudi Arabia GP (Jeddah)
31 March-2 April: Australian GP (Melbourne)
28-30 April: Azerbaijan GP (Baku)
5-7 May: Miami GP (Miami)
19-21 May: Emilia Romagna GP (Imola)
26-28 May: Monaco GP (Monaco)
2-4 June: Spanish GP (Barcelona)
16-18 June: Canadian GP (Montreal)
30 June-2 July: Austrian GP (Spielberg)
7-9 July: British GP (Silverstone)
21-23 July: Hungarian GP (Budapest)
28-30 July: Belgian GP (Spa)
25-27 August: Dutch GP (Zandvoort)
1-3 September: Italian GP (Monza)
15-17 September: Singapore GP (Singapore)
22-24 September: Japanese GP (Suzuka)
6-8 October: Qatar GP (Losail)
20-22 October: United States GP (Austin)
27-29 October: Mexican GP (Mexico City)
3-5 November: Brazilian GP (Sao Paulo)
16-18 November: Las Vegas GP (Las Vegas)
24-26 November: Abu Dhabi GP (Yas Marina)
Formula 1 Drivers and Teams 2023
Much like we've seen in the past, the 2023 season will feature 20 drivers representing 10 different motor racing teams. Many expect the Mercedes and Red Bull teams to perform the best, but we shall see!
Mercedes – Lewis Hamilton
Mercedes – Valtteri Bottas
Alpine – Esteban Ocon
Alpine – Fernando Alonso
Haas – Mick Schumacher
Haas – Nikita Mazepin
McLaren – Lando Norris
McLaren – Daniel Ricciardo
Alfa Romero – Kimi Raikkonen
Alfa Romero – Antonio Giovinazzi
Red Bull Racing – Max Verstappen
Red Bull Racing – Sergio Perez
Aston Martin – Lance Stroll
Aston Martin – Sebastian Vettel
Ferrari – Charles LeClerc
Ferrari – Carlos Sainz
AlphaTauri – Pierre Gasley
AlphaTauri – Yuki Tsunoda
Williams – George Russell
Williams – Nicholas Latifi
With the majority of top-tier sportsbooks, bettors will find three main types of bets. The main F1 betting lines are as follows:
Moneyline wagers on each race
Championship winners odds
Constructors championship winners odds
These markets offer a great deal of value and opportunities to capitalize on the highly competitive online formula 1 betting lines. While it's possible that each sportsbook will offer a unique version of what F1 odds and betting lines, they will all most likely follow a similar pattern of betting options to what we listed above.
To make life easier for bettors we've put together a top-four list that offers information on the very best sportsbooks for betting on Formula 1 each season. So, let's get down to the brass tacks.
Recommended Formula 1 Betting Sites
Check out the best Formula 1 betting sites available to US bettors.
Excellent Mobile Betting Interface — BetUS
BetUS's main selling point is its sportsbook, which has been the driving force behind the growing popularity of this excellent US provider. The sportsbook is best delivered now through its unparalleled mobile betting interface. Customers will find the user-friendly setup on-site very attractive, allowing players to compile parlays, teasers, and many other betting lines with ease.
The design is quite simplistic, which is what makes it so good as often sportsbooks get carried away with design and lose track of what really adds value to an online sportsbook. The basic design makes navigation clear and the layout helps to avoid distractions elsewhere on the screen. Formula 1 betting fans will recognize this and enjoy the use of a search toolbar to narrow down results and find the right market for them.
For a Broad Selection of Formula 1 Betting Options — Bovada
When it comes to Bovada, if you're from the United States and familiar at all with online betting, you recognize that name. That's because it's perhaps the most-popular used offshore betting site used among U.S. players.
Bovada has established itself as one of the biggest players in the game, due to an almost endless list of betting options, which only seems to be getting bigger. The simplicity of the site is something that keeps bringing bettors back, as well as attracting new players.
Bovada's list of popular betting options makes it easy to find the right bet for you - every time. This is much the same for Formula 1 betting odds. Bovada has recognized the growing demand for the king of motorsports and provides an abundance of odds for each circuit, as well as a great range of futures on the constructors and championship title races. Stick with a trusted bookmaker like these guys.
Excellent Sign-Up Bonus — BetOnline
While it's nothing new that a top bookmaker provides a competitive sign-up bonus, BetOnline separates itself from others when it comes to first-deposit offers. First-time players will receive a staggering 50% Bonus Up To $2,500, which is a huge amount of extra funds for bettors to enjoy.
Regarding Formula 1 odds, BetOnline knows the market and has made a commitment to providing the most competitive lines and odds on the market - which they have fulfilled. Not only does it offer futures odds as early as the very best Vegas oddsmakers, but also rewards customers for loyalty. Be sure to check out BetOnline if you're looking to play the F1 odds.
Outstanding Reputation — MyBookie
Youngblood when compared to the other top-flight providers, MyBookie is always worth a mention. With an array of great bonuses, MyBookie rewards customers that come to play with lucrative signup bonuses, as well as seasonal offers.
The outstanding reputation that they've built over the years is something F1 bettors will recognize immediately, as MyBookie offers a wide range of betting lines to players. You can't go wrong with this provider or any of our three other F1 betting odds providers we've mentioned already.
See below the top sportsbooks where you can wager online and choose the best one for you:
More sports
---
Formula 1 Betting FAQs
What types of F1 bets are there?

You can bet on the winner, the top three, or even head-to-head matchups just between two drivers.

What are the best Formula 1 betting sites?

We recommend great US Formula 1 betting sites on this page, such as BetOnline.

What is the best Formula 1 betting strategy?

Check out the underdog betting strategy as one great option. Interested in more? We have plenty of them here on this page.

Where do I find the best F1 odds?

You can check back here for the latest F1 odds.

Is Formula 1 betting profitable?

With the right strategy and bankroll management, you can make a profit on F1 betting.