Youwin Review
What's in it for you?
$100 Sign-Up Bonus
Real Live Casino Dealers
By now, the YouWin sportsbook has carved out a unique name for itself. That name recognition can be credited to two reasons. One, being in business since way back in 1996. Two, it's just a catchy name that aligns with the goal of every bettor. 
Name aside, how does the betting site fare against the best online sportsbook across the market? Our Youwin review should help you answer that very question. We're going in-depth during our Youwin com review, giving you the positives and negatives of the site — completely bias-free. 
After all, we have no dog in this fight aside from helping bettors get the best online betting site offers and wagering experience on the Internet! With that said, here's how YouWin 2020 fares nowadays!
Our YouWin rating
Bonuses

8/10

Deposit Methods

9/10

Payout Methods

9/10

Betting Lines

8.5/10

Website Review

9/10

Casino Review

9/10
YouWin Sign-Up Bonus
GIMME THIS BONUS! - New bettors receive a 100% welcome bonus worth as much as $100 on their first deposit!
Sign Up & Bet Now
How Payments Work At YouWin
Multiple currencies are accepted at YouWin. That list includes US dollar, Euro, GB pound, South African rand, and Turkish lira. When creating an account, you'll have to pick one of the currencies to be defaulted into. 
Payments made in currencies outside your default choice will automatically be converted back into that form of money — at YouWin's exchange rate. That rate isn't always favorable so it's advised to just stick with your default currency. 
Whether you're transferring money in or out of YouWin, all transactions can be made under the "my account" section when logged in. Transfer methods are abundant, which we'll cover next.  
Deposit Methods Within YouWin
First things first, all deposit methods share two things in common. One, they're completely free to use. Two, they will all post to your account instantly. That removes the barrier for entry for bettors, which is always a plus.  
The most popular method will undoubtedly be card — prepaid, debit, or credit will all work on site. Only VISA, Mastercard, and prepaid cards like Ecocard and Paysafe are accepted at YouWin.
Word of caution, however: depositing with a credit card is a bit cumbersome. Typically, YouWin asks for photocopies of the back and front of the card. Moreover, your card provider might dock you a small fee — not YouWin's fault for the record — since the deposit will be counted as a cash advance transaction. 
If you want to avoid that altogether, cryptocurrency is the way to go. Presently, YouWin only accepts Bitcoin, no support for other popular cryptos like Litecoin or Ripple (yet). 
The last funding method is INSTADEBIT, which is a bank-based method that's popular in Canada. This option is similar to a bank wire.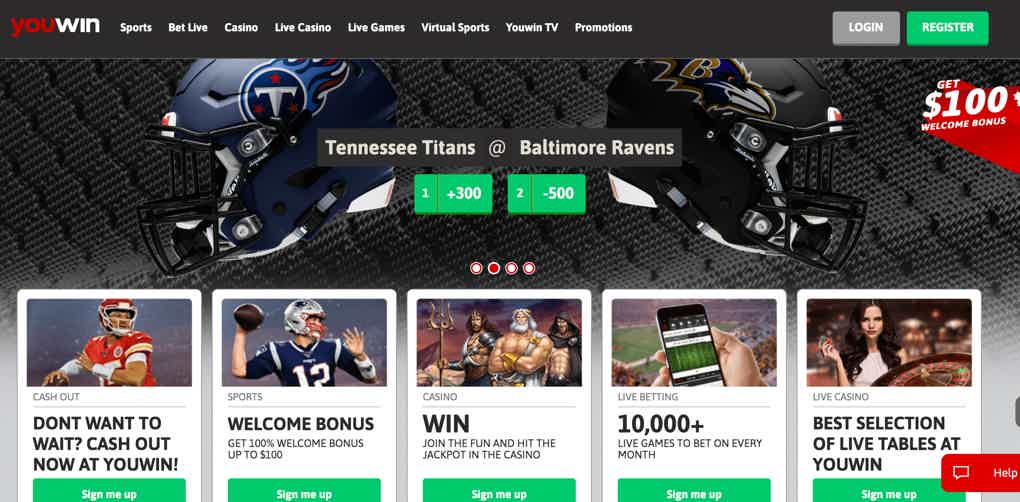 Withdrawal Methods Within YouWin
Forewarning: all YouWin withdrawals must be done through the same payment method that you deposited with. It's a strict rule — one that's not very common at competing sportsbooks — but it's just the way YouWin does business. Therefore, each deposit method we covered will also function as a payout method.  
Like depositing, withdrawing money is on the house at YouWin. That at least makes up for the same deposit, same withdrawal method rule. Many online sportsbooks charge players hefty fees for pulling money out.
Not only is withdrawing free, but it can also be done multiple times a day or week. Cashing out with Bitcoin or card can be done twice daily, whereas a bank transfer is limited to one transaction per day. That's a sharp contrast to some sportsbooks which limit withdrawals to once every week. 
Betting Sports At YouWin
Earlier we said YouWin is popular with Canadians and one of the main reasons why is its dedication to hockey betting. The favorite sport of the country is front and center inside the YouWin sportsbook. Not just NHL, but international hockey leagues and world championships, too.
During peak hockey season during the winter and spring, YouWin bet options for hockey are abundant. Spreads, moneylines, point totals, prop bets, futures, you name it, YouWin probably has lines for it. If you hockey betting is your expertise, you'll be hard-pressed to find a betting site more committed to the sport than YouWin. 
However, that's not to say ice hockey is the end-all, be-all betting option at YouWin. That would be wildly inaccurate. Other mainstream North American sports such as American football, baseball, basketball, and soccer also have a presence on YouWin, albeit second fiddle to hockey.
Still, we're not convinced that YouWin could be the only sportsbook diehard bettors lean on. It doesn't carry too many lesser-followed sports, aside from eSports. Say you're looking for cricket or motor racing odds, you probably won't find them on a consistent basis at YouWin. 
Betting On The Go With YouWin Mobile
As has become the norm with online betting sites, YouWin's website is fully responsive. Essentially that means accessing the website from either desktop or mobile is virtually the same experience — no loss of features whatsoever.
Moreover, no additional apps need to be downloaded to use YouWin mobile. Just access YouWin com via the mobile browser on your device and the experience will auto-adjust to fit your screen size. From here, it's business as usual. Placing bets, transferring money, and everything else can be done through the convenience of your phone.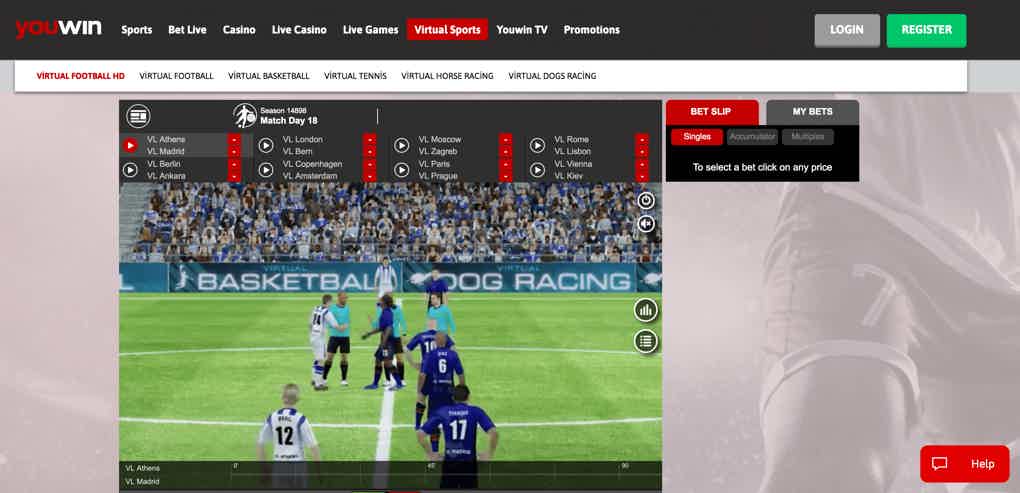 Playing Casino Games on YouWin
Last but certainly not least, YouWin also features a full-fledged casino inside its website. It seriously has one of the most extensive lists of games out of any online betting site.
In video slots alone, YouWin has around 200 games available for casino players. That includes five-reel, three-reel, and progressive slots. Having so much variety is a big win for any bettors that likes spicing things up from time to time.  
If you prefer a more "authentic" betting experience than virtual machines and cards, then head over to YouWin's live casino. Here, you'll meet a real-life dealer (typically a woman) — streaming via webcam — that will hand you cards in real-time. 
There are about 30 different games available inside the live casino including blackjack, roulette, baccarat, and more. The virtual experience does an adequate job of replicating what being inside a Las Vegas casino feels like.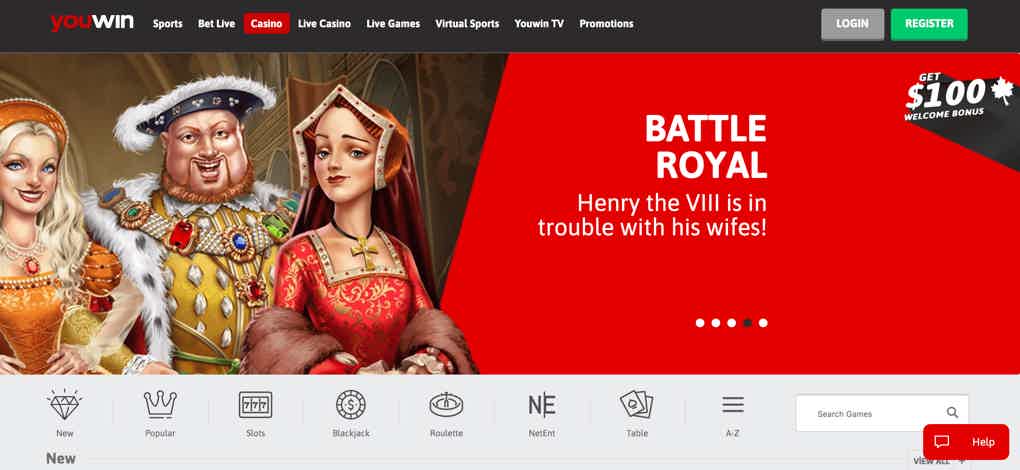 Responsible Gaming at YouWin
Anything can become addictive, including gambling. Admittedly, this will only affect a small portion of players, but the effects can be drastically devastating.
In the event it does happen, does YouWin provide any support to players? Absolutely, which shouldn't go unnoticed. Some competing betting sites will turn a blind eye to addiction, pocketing money off an affected player's destructive habits. 
Not YouWin, however. They allow players to place limits on their wagering practices — both in their deposits and playing time. There's also an option to get a "reality check" notice. With this option flipped on, players will get a popup after a consecutive hour of wagering. 
If issues persist, YouWin also permits players to ban themselves from using the site altogether for a set amount of time. Moreover, YouWin will withhold sending any marketing to the player during the exclusionary period.  
These are nice precautions to help safeguard addicted players. But ultimately, it's on the users to take advantage of them if gambling ever stops being fun.