Sportbet Review
What's in it for you?
Large sports betting menu
Multiple deposit and withdrawal options
Legal in US and Canada
SportBet is a full-service betting platform with multiple sportsbook and casino offerings. The betting site is under the same umbrella as 5Dimes. The parent group of both betting sites has built a trustworthy name for itself over multiple decades of service. 
So what does SportBet have to offer in an already crowded online betting market? A lot actually. Its betting menu — in both sports and casino — is extensive. Its SuperSaver bonus is one of the best online betting site offers in the long run. And this all only the tip of the spear.
Over the course of this SportBet sportsbook review, we'll highlight the betting site's strong points and weak ones, too. 
Our Sportbet rating
Bonuses

8.5/10

Deposit Method

8.5/10

Payout Methods

8/10

Betting Lines

8.5/10

Website Review

9/10

Casino Review

9/10
Large sports betting menu
Multiple deposit and withdrawal options
Legal in US and Canada
No consistency between the multiple casinos
Sportbet Sign-Up Bonus
GIMME THIS BONUS! - Sign up today at Sportbet and receive your 50% free-play bonus off your first deposit — tp to $520!
Sign Up & Bet Now
SportBet Payment Options
Many newcomers to online betting have concerns when it comes to transferring money — both in and out — of a betting site. Questions range from "is it safe?" to "what options do I have?" are commonplace.
When it comes to the former question, SportsBet is legit. Both from our own experience and from customer reviews online. There's no hint of SportBet cheating players out of their hard-earned money.  
As for the latter question, the hub for all things payment will be the SportBet banking center. Once you're logged in, it's there where you'll be given the full list of options to either send or take out money from your betting account. Trust us, you'll have a litany of options, which we'll get to next. 
How Do Deposits Work On SportBet?
Inside the SportBet banking center, you'll find a multitude of ways to fund your betting account. Matter of fact, there are seven ways to do so, which is on the high side compared to even the best online sportsbook. 
Six of the eight will be free of cost, except for Moneygram and Person to Person (P2P). Rates will vary on both methods, that's why it's advised to speak with a representative on the live chat to gauge the price. 
The two most-used methods will likely be debit/credit card and eCheck from a bank account. The downside is both come with very strict max deposit limits at $500, which is peanuts if you consider yourself a "high roller." Worse, if using e-check, it can take as much as eight business days for it clear and become available in your account.
On the flip side, money transferred via card is credited to your account almost instantaneously. But using card to deposit isn't without faults either. While it's technically free, don't be surprised to get hit with a foreign transaction fee from your card provider. This is out of SportBet's control and will not be covered by them. 
No deposit option will be more convenient that Bitcoin, however. Any deposits above $25 are free and you can insert as much as $10,000 per transaction — twenty times above check or card. Bitcoin-deposited funds can enter your account in as little as 40 minutes. 
The last two deposit methods are account-to-account and sportsbook transfer. We expect these two to be sparingly used, but both allow you to send funds between fellow betting accounts. Account-to-account is with SportBet players only, while the other allows transfer from participating sportsbooks not named SportBet.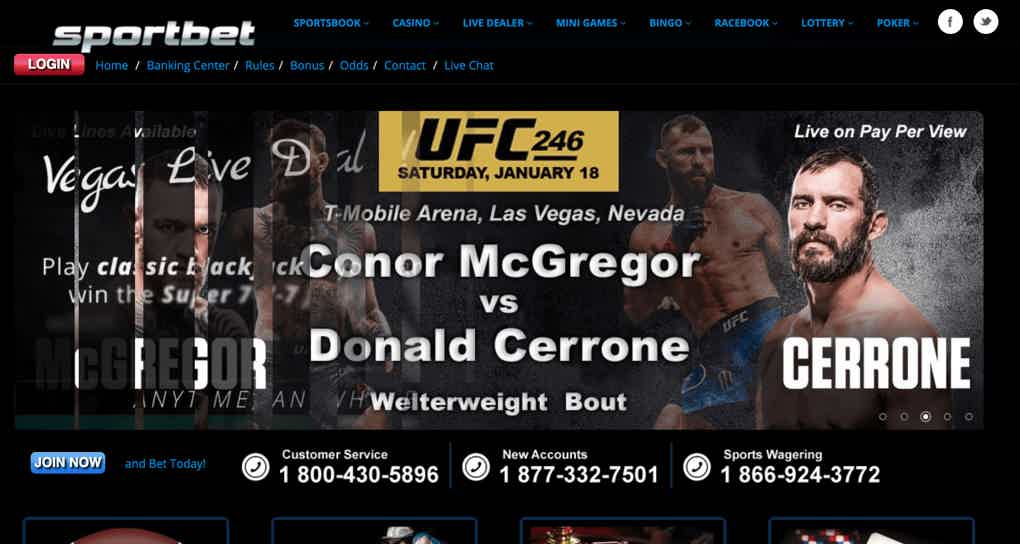 How Do Payouts Work On SportBet?
While deposits are largely processed on a 24/7 basis, withdrawals are more stingy. By and large, you'll have to make requests between Monday and Thursday from 9 am to 1 pm. Cashouts outside this period will have to wait until the next open time to be processed. 
Exclusions to the above rule include Bitcoin, sportsbook transfer, and account to account. Like deposit, those can mostly be done around the clock and free of cost. 
Though, "exclusions apply" when receiving Bitcoin payout. If you exclusively deposited through Bitcoin, there's zero limit on the total sum you can request as a payout. If you didn't deposit through the method, you're capped at one Bitcoin payout per week at a max of $5000. Moral of the story? Make Bitcoin your end-all, be-all payment option.   
Popular withdrawal options like bank wire, check, or money order aren't free like Bitcoin. Fees of as much as $80 can be tacked on for using any one of the three options.  
There is a workaround, though. SportBet offers a free payout day once-a-week. Every Monday, between 9 am and 1 pm EST, bettors can withdraw money without any transaction fee. If you're withdrawing through bank wire, check, or money order, do yourself a favor and cash out during the free payout period. 
SportBet Sportsbook Review
Let's move on to the good stuff — the SportsBet sportsbook review. How does the site stack up when it comes to actually wagering on sports?
To get access to the SportBet sportsbook in full, you'll need to be logged in. Most competing betting sites at least allow you to see what bets are available and at what odds readily — with no login being required. Not SportBet, however. 
Once signed in, you'll see the full breadth of sports betting options inside SportBet sportsbook main. Keyword being "full" because just about all sports are covered. You want lines for the top American sports leagues like the NFL, NBA, and MLB? SportBet's got it. What about international leagues? Yep, there's that too in the form of soccer. Or how about table tennis or politics? SportBet has 'em too!
Having all this variety is any sports bettor's idea of paradise. Conceivably, SportBet could serve as the only betting platform a player uses. No need to fumble between other sites in the case SportBet isn't carrying the bet you want. Such scenarios are rare considering how stocked the SportBet sportsbook is with betting lines.
Sports wagers can be made for as little as fifty cents (USD) at SportBet, making it accessible to players of all income levels. This also includes the "high rollers" who can bet as much as $5,000 on a single bet. When it comes to multi-select wagers like parlays or teasers, the max payout is capped at $1,000,000 — good luck hitting one of those, but it's possible!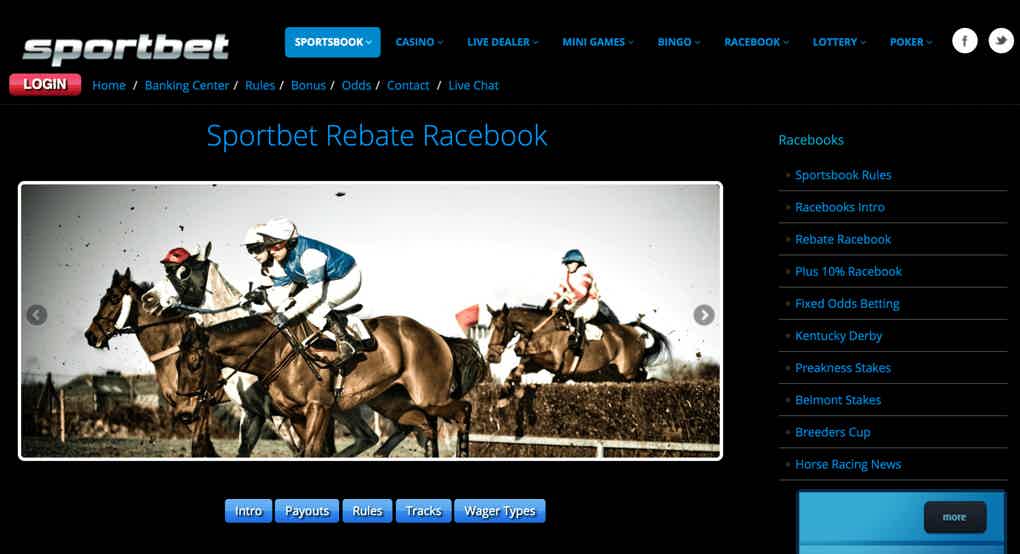 Is There Live Betting On SportBet?
Not only does SportBet have live betting, it actually has separate sections to do so — Live Betting Extra or Live Betting Ultra. If we're being honest, it's not clear what the difference between either is. However, some games will be carried in one section, but not the other, and vice-versa. Therefore, check both sections if you have a particular game in mind for in-play wagering.
Live betting opportunities are more likely to appear in the top sports (e.g. football, basketball, and soccer) than the lesser-followed ones (tennis, golf, cricket). It's not available in every single game, but marquee matchups usually have it.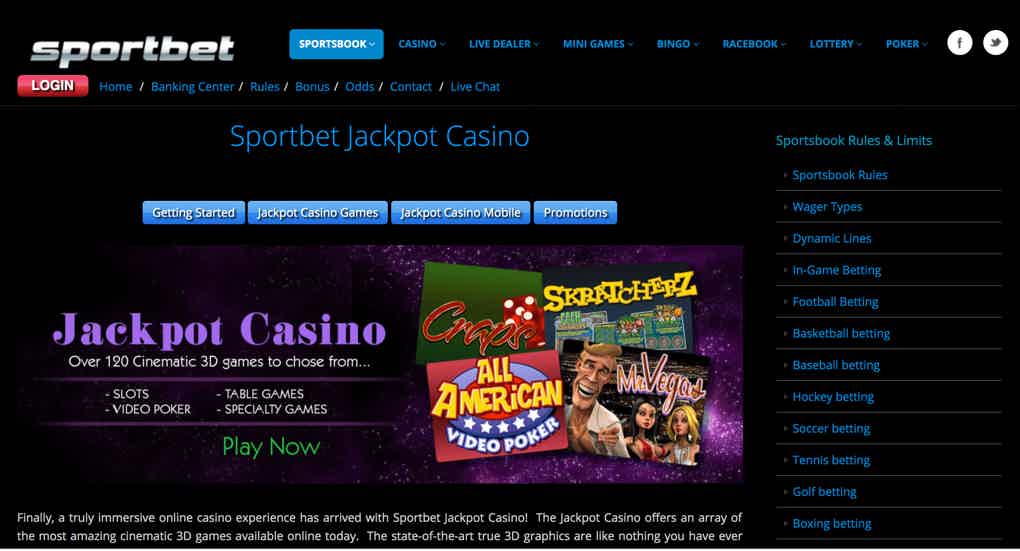 SportBet Casino Review
Last on our SportBet com review is its casino(s). Matter of fact, SportBet has five separate casino sections — grand (downloadable games, not playable on a web browser), jackpot, bonus, gold, and matchplay casino.
In most cases, having variety helps out a betting site. However, in this case, spreading out your casino between five different platforms is more annoying than helpful. Each casino has a different software engine powering it, too, so the betting experience isn't consistent across the board.
But the positive is just about every casino game you want is available for play in any one of the five casinos. From table games to slots to video poker, it's all there for the taking. Plus, there are multiple variations for all these games. It's tough to pin down just how many casino games are playable at SportBet, but the number is well into the hundreds.