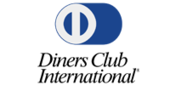 Successful Track Record
Works Well For Travel & Entertainment, too
Worldwide Operations
Diners Club Friendly Sportsbooks
Below you will find the different sportsbooks that accept certain payment methods, including the Diners Club Card. 
No sportsbooks is available for those criterias.
Established as the first independent credit card company in the world, Diners Club International was founded in 1950 by Frank X. McNamara, Ralph Schneider and Matty Simmons in New York City. It helped establish the concept of of a self-sufficient company producing credit cards for travel and entertainment. Today the company operates with both pre-paid and post-paid credit cards.  [+]
Applying for a Diners Club card is similar to the process for other credit cards in the United States. As one of the oldest card services in America, paying with a Diners Club card has its benefits.
However, since the brand isn't as large as it used to be, make sure to double-check that the particular sportsbook or vendor accepts it.
Akin to other credit cards, always make sure that security on the site you are wagering is up to par. Diners Club card holders have access to over 845,000 ATMs which are available in 185 countries. Additionally, Diners Club customers will have access to 450 airport lounges worldwide and a comprehensive support line should any questions arise. You can also earn points with your card by using it at certain outlets.
How To Use Diners Club
Akin to when you are using a MasterCard or VISA, Diners Club cards can be a handy form of credit card to transfer information regarding funds securely. Typically, most online gambling outets have a special section where you can make payments with your Diners Club card.
An electronic code will be sent out each time you make a transaction with your card. Be aware that sometimes certain U.S. banks and other insitutions don't take this code, but a lot of European outlets will have this option available. Players in Nevada can also use the Diners Club card if they are utilizing U.S. dollars. 
Gaming with your Diners Club card should be familiar to anyone who has used a credit card since it employs a similar system of payment. First, you should verify the validity of the outlet that accepts the Diners Club card so the process is secure. After you have entered the necessary information with the gaming outlet of our choice, you should be good to go.
Just keep an eye on your e-records if anyhthing should arise. Diners Club International has a stellar track record so hit them up with any questions that may arise.