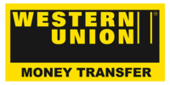 Fast payment processing
Internationally serviceable
High reliability
Western Union Friendly Sportsbooks
Bettors who have accounts with Western Union will have a long list of sportsbooks at their disposal. As a financial services corporation with an international market, Western Union is – not surprisingly – a method of payment that many notable sportsbook recognize and support. [+]
Online wagering sites from a variety of different markets around the world take WU payments from its customers. While not every site accepts Western Union, BetOnline, TopBet, and BetDSI are just a few from the list of notable ones that do.
Not sure where to begin? Each of the sportsbooks from the list below offers different types of promotions, betting lines, and options of sports to bet on. If Western Union is your payment method choice, you'll also want to consider the fee amount that comes with the payment, as it does vary depending on the site. In the end, which sportsbook you choose will depend on your personal betting needs. Click on a site and see for yourself!
Western Union (WU) is a financial services company that has been providing money transfer services since 1851. Its longstanding history and international presence makes it one of the most reliable and widely recognized methods of payment on sports betting sites. [+]
Very few financial service companies can stack up to Western Union when it comes to commercial success. WU has been in the industry for more than 160 years and has cemented its reputation as a prominent leader. The company is currently listed on both NYSE aas well as S&P 500 – two of the world's leading stock markets. A lengthy history is usually an indicator of consistent reliability, which means that Western Union is a company that you can truly trust to transfer funds to your sportsbook.

Western Union continues to gain popularity, the key to its success is the way in which it takes advantage of ever-changing technology over the decades. The telegraph might now be obsolete, but for the present-day user living in the digitized world, Western Union offers services online and via mobile phone.

No matter where in the world you may be, Western Union is always within reach. This American-based franchise operates in over 486,000 locations in more than 200 countries while also operating online. 
How To Use Western Union
Like any other payment method, the first step to making a payment with Western Union is having a profile. You then select WU as your payment method once you are at the cashier section.
The sportsbook will provide a mailing address and the name of an individual responsible for money collection on the cashier page. You will need to remember this information when you wire the money. A cashier at your nearest branch office will wire the money for you. Western Union has offices in almost every major city in the world, but don't worry if there isn't one near you! WU also has online and mobile device services, so it's fairly easy to access. 
Transactions with Western Union will incur a charge of some type, which some sportsbooks may provide reimbursements for. To claim a reimbursement, you will need to provide the 10-digit transaction number from the payment.
Once you make your deposit, your payment should process within a few hours. Even if it doesn't, you can still be positive that your funds will reach your sportsbook account. Western Union provides customers with a tracking number for reference after each transaction.